Sultanes del Sur (Sultans of the South)
(2007)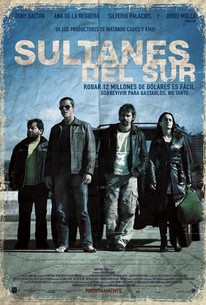 AUDIENCE SCORE
Critic Consensus: No consensus yet.
Movie Info
Ana de la Reguera stars in this thriller about a gang of thieves who steal $12 million from a Mexican bank and plot to launder the money in Argentina. When the job goes awry, the thieves work to root out the traitor in their midst. Getting the money was the easy part; the real challenge is living long enough to spend it.
Critic Reviews for Sultanes del Sur (Sultans of the South)
There are no critic reviews yet for Sultanes del Sur (Sultans of the South). Keep checking Rotten Tomatoes for updates!
Audience Reviews for Sultanes del Sur (Sultans of the South)
Alejandro Lozano's Sultans of the South starts off well, but fizzles out by its conclusion.
Even with a run time just under 90 minutes, the plot struggles along to get there. The first 20 minutes or so is actually the highlight, as the characters pull off a nicely planned bank heist. The story then moves on to the after-effects of closing out the deal. This is where things slowly go south. The characters, while cool and impressive during the heist, aren't as amusing as everything else unfolds.
There is action scattered throughout and there is nothing overly impressive about it. The camerawork tends to get shaky during these moments with the need to add intensity, but ultimately it obscures more than anything else.
Tony Dalton is chosen as the lead of the film; however he is the least amusing of the bunch. The likes of Jordi Molla, Silverio Palacios, and Ana de la Reguera provide more spark to the film than Dalton.
Sultans of the South isn't a bad film. It just sounds and looks better than it actually plays out, although the twist at the end is a nice touch.
Awful dialogue, terrible performance, epileptic camera movements, plenty of WTF moments and a tired plot make this an entertaining, laughable crime B-Movie.
Quinto Wallight
Super Reviewer
Sultanes del Sur (Sultans of the South) Quotes
There are no approved quotes yet for this movie.