The School of Flesh
(1998)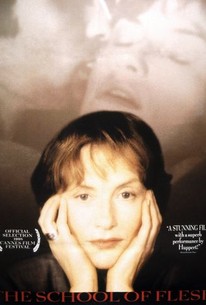 Movie Info
This French drama is about older woman Dominique who goes to a nightclub one evening and is attracted to younger bartender Quentin. Cross-dresser Chris approaches her and supplies her with the inside dope on Quentin. Dominique's intrigue for the completely opposite Quentin evolves into a passionate relationship.
Critic Reviews for The School of Flesh
Audience Reviews for The School of Flesh
Very cool and sexy within a complex relationship that screams with emotion.
John Ballantine
Super Reviewer
½
[font=Century Gothic][color=blue]"School of Flesh" starts out with a wealthy fashion executive, Dominique(Isabelle Huppert) who wanders into a nightclub with a friend one night and meets a bisexual hustler(Vincent Martinez). She returns a couple of nights later and returns home with him. Now, I can understand why that would happen but why honestly continue the affair with somebody as shallow as he is, if it is only physical? Also, is this something that Dominique does on a weekly basis or is it part of a midlife crisis? I think, director Benoit Jacquot's conclusion might be something more negative, considering the movie's ending. This might be a statement on how a successful businesswoman cannot commit to a relationship. "School of Flesh" is a curiously flat movie about an affair that goes on too long.[/color][/font] [font=Century Gothic][color=#0000ff][/color][/font] [font=Century Gothic][color=red]"Les Destinees" is an epic drama that starts in 1900 with a funeral(for the 19th century?) and continues until 1930. It focuses on a protestant minister, Jean Barnery(Charles Berling) who is in exile from his prosperous family of porcelain makers and his relationship with a young woman, Pauline(Emmanuelle Beart). At the start of the movie, Barnery is in the process of separating from his wife, due to an unspecified scandal. The movie tries to be a sprawling epic but we never learn much about any characters except for Jean and Pauline. All the other characters just seem extraneous and come and go as they please. But on the other hand, we did learn a great deal of how to make pottery and bourbon.[/color][/font]
The School of Flesh Quotes
There are no approved quotes yet for this movie.