Track of the Cat
(1954)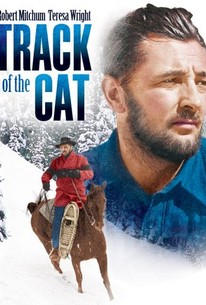 AUDIENCE SCORE
Critic Consensus: No consensus yet.
Movie Info
Set in wintery northern California during the 1880s, this western chronicles the effects of prolonged hardship and close confinement on a pioneer family. Trapped by unusually heavy snows, the Bridges household seethes with tension, largely due to the domineering ways of the family's insanely religious and opinionated mother.
Critic Reviews for Track of the Cat
Audience Reviews for Track of the Cat
At first, Joe Sam(Carl Switzwer), an elderly Indian, is the only one to hear it. After he wakes up the Bridges brothers, Curt(Robwert Mitchum), Harold(Tab Hunter) and Arthur(William Hopper), they also hear what might be a big cat threatening the family's cattle and is maybe even the mythical black panther that Joe Sam has alluded to on occasion over the years. At the very least, Curt and Arthur go out into the snow to see what they can find which gives their mother(Beulah Bondi) plenty of time to harangue Harold on his upcoming engagement to Gwen(Diana Lynn), the paid companion to Grace(Teresa Wright), who like her brothers is also unmarried. First, "Track of the Cat" is something of an odd duck in trying to turn its typical western premise of man versus nature on its head. And I would agree with anybody who says that this movie is meant mostly to be allegorical about the closing of the frontier in favor of settling down into a life of domesticity. But ignoring the hunt in favor of the household squabbles is a mistake, as anything Robert Mitchum does in general, much less in the stark white landscape, is much more interesting than anything going on inside the house where the primary lesson is to always find plenty of places to hide your booze.
Track of the Cat Quotes
There are no approved quotes yet for this movie.