Transformers: Revenge of the Fallen
(2009)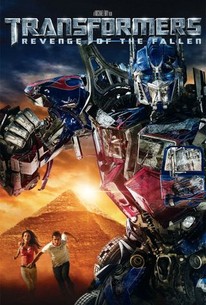 TOMATOMETER
AUDIENCE SCORE
Critic Consensus: Transformers: Revenge of the Fallen is a noisy, underplotted, and overlong special effects extravaganza that lacks a human touch.
Transformers: Revenge of the Fallen Photos
Movie Info
Two years after saving the world with the Autobots, Sam Witwicky (Shia LaBeouf) is away at college when an ancient Decepticon named "The Fallen" returns to Earth on a mission of vengeance. With the Allspark destroyed, the Autobots lose all hope of returning to their home planet of Cybertron, and begin working with an elite military known as NEST to hunt down any remaining Decepticons. But even as they fight for humanity alongside Major Lennox (Josh Duhamel) and USAF Master Sergeant Epps (Tyrese Gibson), the Autobots are acutely aware that not all humans are thrilled by their presence on planet Earth. When National Security Advisor Theodore Galloway (John Benjamin Hickey) wages a heated campaign aimed at exiling the giant robots back into space, head Autobot Optimus Prime agrees to comply with the voice of the people, while warning them of the potential consequences of leaving the planet unprotected. Meanwhile, Sam contends with an overly cocky college roommate, and attempts to remain faithful to Mikaela (Megan Fox) by fending off advances from pretty -- and persistent -- coed Alice (Isabel Lucas). Just as Sam begins adjusting to the quirks of campus life, a series of inexplicable visions leaves him convinced that the struggle between good and evil is far from over. And he's correct, too, because the Decepticons have just discovered that Sam is the one human who possesses the ability to tip the balance of power to the Autobots' advantage, and they're determined to gain the upper hand by dispensing with him once and for all. Now, as Sam and Mikaela unearth a secret about the Transformers that alters the entire course of human history, the Decepticon known as The Fallen prepares to return -- and reclaim the plant once and for all. ~ Jason Buchanan, Rovi
People Who Like this movie also like
News & Interviews for Transformers: Revenge of the Fallen
Critic Reviews for Transformers: Revenge of the Fallen
Audience Reviews for Transformers: Revenge of the Fallen
So I've noticed that everyone in this film is covered in large amounts of tan makeup, everyone is quite orange at times. So Mr Bay brings us his second Transformers film, its got a good title and sounds like its gonna be dark and brooding, hopefully like 'Empire Strikes Back' it would be the sequel that betters the original. Alas I was disappointed hugely by yet another loud CGI filled mess which was overly long and actually became a little dull. The main issue for me being the constant redesigning of classic Transformer characters into characters that are virtually unrecognisable as anything but a mass of shiny moving parts. Most of the transformers look terrible with some dreadful designs, I can't for the life of me work out why they have designed the Decepticons to look spiky and more insect like, there are specific Decepticons for that and they are called Insecticons. Plus most of the Decepticons don't even look like Transformers they look more like robotic aliens from another film 'Batteries Not Included' and 'Short Circuit' springs to mind, the Decepticon disguised as a female student was the worst offender. I don't mind reinventing the characters for a new age but lets try and be sensible here and not go over the top, I mean what the hell was going on with Mudflap' n 'Skids?! talk about your politically correct Transformers for the black audience geez! not too obvious. Then you have the wildly bizarre looking Devastator, I actually didn't mind his new look too much but for some reason they make the large bots more like monsters in a 'Godzilla' way instead of characters with actual sense. Jetfire was probably the best looking new character but again like all the characters he's too much with a lot of needless extra bits 'n' bobs that make the overall design far too busy and very difficult to distinguish or decipher. They keep totally reinventing what the Transformers look like and making them look poor, why not try to keep them reasonably similar to their original designs? For a start the original designs look so much cooler, if it ain't broke don't fix it. As for the film itself I found the first half quite dull as we are introduced to Sam's life after the first film. Things pick up as the Transformers become more prominent and we build up towards a showdown in Egypt but the finale is so drawn out and actually loses its impotence because its just keeps on going. Its also rather stupid too as you have all these military guys running around trying to attack the Decepticons whilst looking all heroic but the film already established how useless humans are fighting Transformers prior to this so its just all noise and time wasting. Not only that but the creators make the crucial mistake in any film by having faceless characters just for death sequences, in the finale when the Decepticons begin their assault numerous robots touch down and fight resulting in many deaths of unknown Decepticons. Add to that the fact they also killed off all the main well known Decepticons too! Devastator and Ravage dead!! what the hell!! they are main characters in Transformer history! and so cheaply too. I still don't understand why they didn't include more regulars in both of these films, regulars like Thrust, Ramjet, Laserbeak, Rumble, Thundercracker etc...same for Autobots too. End of the day this film looks pretty yes, the CGI is very very highly impressive with the detail and blending of live action sequences but that's it, the film is a visual feast with nothing else to offer accept noise and a blur of unrecognisable images. The acting is pretty dire frankly and the whole thing is so cliche ridden eg. slow motion running with explosions behind and lots of amusing military cheese. If this was a film unrelated to Transformers then I might be more kind to it, ever so slightly, despite the mass CGI it would be an imaginative film and bold. Seeing as its suppose to be an adaptation of a beloved childhood cartoon colossus of epic proportions with legendary historic status I simply cannot say it deserves any of the hype it got.
Phil Hubbs
Super Reviewer
Whilst I enjoyed the first 'Transformers' this is cinematic torture. It is utter, utter rubbish. I cannot clearly express in words my utter hatred for this film. I despise everything about it from the racist robots to the exploitative special effects. I know Michael Bay makes 'films for teenage boys' but as a filmmaker he has a moral duty to create a plot. Yet again he has failed abysmally. Spare yourself from this.
Adam Kelly
Super Reviewer
Okay, if you are one of those people who goes to the movies and expects to see a great story, then this could possibly be the worst movie you have ever seen, but you have to look beyond the story and have some fun with it! This movie is amazing fun at times, but there is just so much bad surrounding it. There is too much action, that you will find yourself lost in the entertainment, which is fun for a while, but ultimately becomes tiresome. Yes, it goes overboard, and yes it's a new low for even director Michael Bay, but I love watching it for some reason. This is a very bad film with addicting action that you just cannot ignore. The only things thing film has going for it is the effects, which actually work against the story sometimes. This had potential to be a great popcorn flick, but it's just overlong and dumb.
Transformers: Revenge of the Fallen Quotes
| | |
| --- | --- |
| Starscream: | Come here, boy. |
| | |
| --- | --- |
| Starscream: | Master, sorry to be the bearer of bad news, but the soldiers brought the body of Prime! |
| Megatron: | The boy must have the Matrix. He can not let him reach Optimus! (Starscream flies away.) Decepticons, begin our assault! |
| Megatron: | The boy must have the Matrix. He can not let him reach Optimus! Decepticons, begin our assault! |
| | |
| --- | --- |
| Leo: | Wait, wait, wait, can I sit and watch? |
| | |
| --- | --- |
| Leo: | I think he died, but lets go and check. |