Friends From College: Season 1
(2017)
SEASON: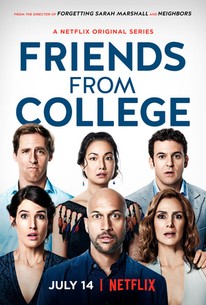 Friends From College: Season 1 Videos
Friends From College: Season 1 Photos
Tv Season Info
Series 1 of the comedy followingthe lives of a group ofuniversity friends in their 40s.
News & Interviews for Friends From College: Season 1
Audience Reviews for Friends From College: Season 1
Television shows like this have been around forever. Whether you think back to shows like Cheers, Friends, or even recent ones like That 70's Show or The Big Bang Theory, friends and relationships have always been an easy sell for mainstream audiences. While Friends from College definitely doesn't break any new ground for the genre, there's definitely an audience for this new Netflix series. As far as sitcoms go, this is about as middle-of-the-road as you can possibly get, but it really all comes down to the characters and whether they are relatable enough to hold your interest. This is not a show I'll probably ever feel like revisiting, but the first season is only four hours long, so I can't see anyone complaining too much if they throw something like this on during their free time. It's not that Friends from College is a bad show, but here's why it's not very memorable. A down-on-their luck couple returns to their hometown in order to live with some of their friends from college as they get back on their feet. Flings begin to circulate throughout some of the friendships and many hearts will likely be broken by the end of the season. That's the basic outline of this first season and it's just as predictable as that description is. The most disappointing aspect about this show is the fact that I enjoyed watching every single one of the actors/actresses converse on-screen together, but none of them felt like they were being given enough to truly showcase their talent. Most notably Keegan-Michael Key, who is one of the most talented of the entire cast, feels like he is overdoing some portions of his character, because the script was too under-written. The standout portion of this first season was the interaction and believability of the friendship between Ethan (Keegan-Michael Key) and Max (Fred Savage), because it felt real. Their bond that grows even more throughout the duration of these first eight episodes is terrifically performed, enhancing the rest of the cast around them. Every time these two were on-screen together, it raised the enjoyability level for me. The rest of the cast plays off of them very well and that is easily the best aspect about this show. Sure, the scenarios are relatable, but it's the characters themselves that feel the most true to life. This was a slightly frustrating first season to sit through, because the first episode felt very average, but I enjoyed the characters enough to continue onto the second. The second and third episodes seemed to have a much brisker pace to them and I found myself laughing quite a bit. Sadly, after the first few episodes is when the show becomes too predictable to fully enjoy. Each episode becomes more and more predictable than the last, making for a very disappointing conclusion that really has me on the fence about wanting to continue watching if this show ever gets renewed. This is about as mediocre as you can get. In the end, it does seem like I'm bashing this show more than I'm praising it, which may be true, but only due to the fact that there's nothing fresh about it. The performances and scenarios are still all very enjoyable and those aspects held my interest the entire way through the first season. Friend from College definitely has its funny moments and some viewers may even come out of this season loving the comedic aspect, but other than these positives, it's just a predictable sitcom from start to finish. You can see the cliffhanger coming from a mile away and it's probably going to be difficult to hook you for season two, but I also can't say it's a bad show in any way. Friends from College is average at its best and equally average at its worst.
Discussion Forum
Discuss Friends From College on our TV talk forum!