Two Cars in Every Garage and Three Eyes on Every Fish
EPISODE: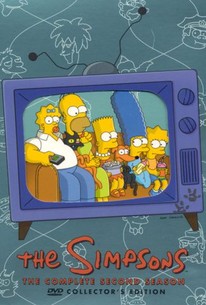 Episode Info
One day, Bart Simpson (voice of Nancy Cartwright) is fishing along the river downstream from the Springfield Nuclear Power Plant, and catches a strange three-eyed fish. A reporter happens to be passing by, and writes a story about the mutant fish; inspectors from the Nuclear Regulatory Committee soon arrive in town, and are outraged at the shoddy state of the plant. Mr. Burns (voice of Harry Shearer) attempts to bribe them, which only makes matters worse. Homer (voice of Dan Castellaneta) mentions in passing to Mr. Burns that if he were governor, he could change the state's laws regulating power plants and stay in business; Burns seizes upon the idea and runs for office. For the sake of his job, Homer finds himself helping Mr. Burns, while Marge (voice of Julie Kavner) and Lisa (voice of Yeardley Smith) both support the state's longtime governor, Mary Bailey. Near the end of his campaign swing, Mr. Burns persuades Homer to allow him to have dinner with his family the night before the election as a publicity stunt. Marge and Lisa are not at all happy to be helping Burns in his bid for the governorship, but Marge has a secret plan to derail the Burns campaign. "Two Cars in Every Garage and Three Eyes on Every Fish" first aired on November 1, 1990.
Discussion Forum
Discuss The Simpsons on our TV talk forum!