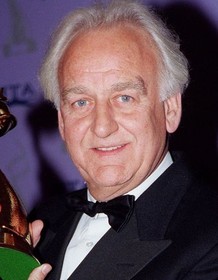 John Thaw
Highest Rated: 74% Cry Freedom (1987)
Lowest Rated: 57% Dr. Phibes Rises Again (1972)
Birthday: Jan 3, 1942
Birthplace: West Gorton, Manchester, England, UK
The actor John Thaw was born into modest working-class circumstances. His mother took off when he was seven; a dozen years passed before he saw her again. But he gained acceptance into one of the world's finest acting programs, at the Royal Academy of Dramatic Art in London; one of his classmates was Tom Courtenay, with whom Thaw worked in Tony Richardson's film adaptation of Allan Sillitoe's landmark angry-young-man drama, "The Loneliness of the Long Distance Runner." Thaw's more substantial roles were to come on TV, however, and he was working in the genre for which he is most often associated--the crime drama--as early as the mid 1960s. One of his breakout roles was as an alcoholic constable on "Z-Cars," but he navigated his first star turn on "Redcap," in which he transplanted the angry young man onto the military police force. That was still a decade shy of his role as shady Detective Inspector Jack Regan on "The Sweeney," a show that imported the ambiguous, street-wise ethic of "Dirty Harry" and "Get Carter" to British television. Thaw is most beloved, however, for his extended, if not nearly as biting, portrayal of a curmudgeonly Oxford detective-aesthete in "Inspector Morris"; his performance made him the toast of the BAFTA Awards for over a decade. In the meantime, he managed to get some roles on the big screen. His working relationship with the epic-spinner Richard Attenborough resulted in Thaw's being cast in the civil-rights drama "Cry Freedom" and the biopic "Chaplin."
Photos
THE LONELINESS OF THE LONG DISTANCE RUNNER, John Thaw (2nd from L), Tom Courtenay (R), 1962.
SWEENEY!, John Thaw, 1977
SWEENEY!, from left: Diane Keen, John Thaw, 1977
THE LONELINESS OF THE LONG DISTANCE RUNNER, John Thaw, (2nd from L), Tom Courtenay (3rd from L), 1962.
KILLING HEAT, (aka GRASET SJUNGER, aka THE GRASS IS SINGING), from left: John Thaw, Karen Black, 1981, © Satori
Filmography
Movies
TV
Credit

No Score Yet

75%

Inspector Morse
Endeavour Morse (Character)

1987-1993

1995-1998

2000

No Score Yet

No Score Yet

Masterpiece Theatre
Unknown (Character)

1999

No Score Yet

No Score Yet

Mystery!
Unknown (Character)

1994

1997

1999

No Score Yet

86%

The Avengers
Unknown (Guest Star)

1964