Skippy
(1931)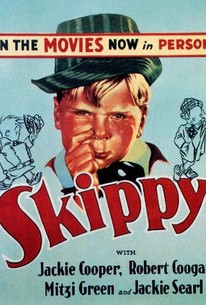 Movie Info
Percy Crosby's popular newspaper comic strip Skippy comes to life in this 1931 film. Designed as a vehicle for Our Gang's Jackie Cooper -- then all of nine years old -- Skippy jettisons most of the trenchant cynicism of Crosby's creation (the strip was something of a 1930s Calvin and Hobbes) in favor of sentiment. Skippy, the son of the local health inspector (Willard Robertson) conspires with his best friend, Sooky (Robert Coogan), a poor kid, to raise enough money for a dog license. The mutt in question is eventually shot by the mean dogcatcher, and the effect on Skippy and Sooky (not to mention the audience) is devastating. The tragedy leads Skippy's dad to soften his disciplinarian stance and to draw closer to his son. Skippy was followed by an even more lachrymose sequel, Sooky, also released in 1931. Twenty-five years later, Jackie Cooper, by that time a prominent TV producer/director, tried to revive Skippy as a weekly series, with future My Three Sons co-star Stanley Livingston in the lead.
Critic Reviews for Skippy
Audience Reviews for Skippy
Made for children, there are redeeming qualities for adults to think about the poor..blah blah blah. Another for the good but not great pile.
John Ballantine
Super Reviewer
This is a cute and slightly more realistic movie than you'd expect. It's really very interesting, and I highly recommend it.
Skippy Quotes
There are no approved quotes yet for this movie.