Possession
(2008)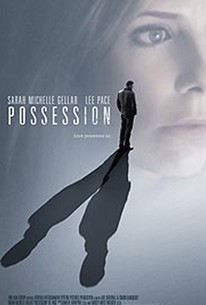 AUDIENCE SCORE
Critic Consensus: No consensus yet.
Movie Info
An adaptation of the 2002 Korean film Addicted, this thriller stars Sarah Michelle Gellar as a young woman whose husband and brother-in-law each fall into comas. When the brother-in-law comes back to consciousness first, he acts as if he is her husband, making her more and more uncomfortable. Soon she begins to suspect that unnatural forces are working against her.
News & Interviews for Possession
Critic Reviews for Possession
All Critics (2) | Top Critics (1) | Fresh (0) | Rotten (2)
Dully predictable.
May 21, 2008
A stillborn chiller and an awfully silly picture, boasting screamingly inept performances and preoccupied direction that spends more time seeking out the perfect camera angle than tightening the story to appropriate nail-biting levels of suspense.
Audience Reviews for Possession
I was surprised to see this went straight to DVD for a Sarah Michelle Gellar film, so didn't expect much. It does have a certain made for TV feel to it. It's a fairly odd film and a bit misleading as well, more like a poor mans Sleeping with the enemy.
½
I am not entirely sure how I feel about this one. I bought it knowing it had quite a low rating, but it was very cheap, and i like Sarah Michelle Gellar, so I decided to give it the benefit of the doubt. Story is a little strange. SMG plays Jess, who is married to Ryan, (Michael Landes). They are a nice couple, though you get the impression Jess has a few commitment issues, including whether or not to start a family (which Ryan wants). Ryan's brother, Roman, (Lee Pace), has recently moved in with them after a spell in prison. It is clear that he is the bad egg of the family, and Jess is understandably nervous around him. This was the part of the film I liked the least . I found Lee Pace's gruff portrayal of Roman really unconvincing, while Sarah Michelle Gellar didn't seem to have a lot to work with on her character. After hearing Jess complain to Ryan about him, Roman storms off in his car and there is a freak accident between the two brothers which really requires you to suspend your disbelief. Both wind up in a coma, but only Roman wakes up. Here's the twist.... when he does wake up, it seems that somehow Ryan has returned to Jess through Roman's body. The movie picks up from here and I liked Lee Pace considerably more as he played "Ryan". I won't spoil it by revealing any more of the plot, but from this point on, I found this an interesting and suspenseful film and the actors seem to come into their own in the roles. I would have rated it higher and recommended it if it wasn't for the ending, which I really felt let the whole movie down and made the whole thing seem stupid. Overall, a flawed, but decent thriller which is let down by a crappy ending.
Nicki Marie
Super Reviewer
½
predictable movie, but still watchable
Andreia Cordeiro
Super Reviewer
Possession Quotes
There are no approved quotes yet for this movie.