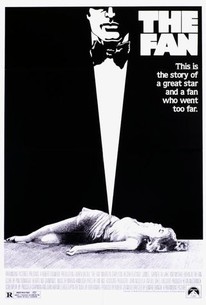 The Fan
1981, Mystery & thriller, 1h 35m
18 Reviews
1,000+ Ratings
Where to watch
Rent/buy
Rent/buy
Rent/buy
Rate And Review
Movie Info
Broadway star Sally (Lauren Bacall) is successful, famous and working on a new musical. But she's in love with ex-husband Jake (James Garner), and his absence creates a void in her life. Despite her loneliness, she doesn't reciprocate when a fan, Douglas (Michael Biehn), starts sending her letters. This angers the delusional admirer so much that he starts getting violent. With secretary Belle (Maureen Stapleton) and others caught up in the drama, Sally's career and well-being are jeopardized.
Audience Reviews for The Fan
1981 "the fan" is a self-recycling tale of lauren bacall's past stardom, a self-referential parody since it is convinient to barrow her young glamour shots in the flick. bacall is sally ross, the aging super star who decides to head broadway while she suffers from the melancholy after divorce despite her ex is still escorting her. on the other hand, her number one fanatic fan douglas is running amok becuz the grand sally ross never has time or care to read or reply one goddamned word to him. he blames sally ross' assistant for intercepting his letters, so he teaches her a lesson by disfiguring her. solitude in reclusion and continuous refusals trigger off his insanity, so douglas makes up his mind to go for the extreme to get what he wants most: a responded letter from sally ross. the flick is corny, and it centers on trivia around bacall more than the lunatic state of the fan. it is partially a melodrama of bacall's november romance featuring her relationship with men, her struggling career and her dazzling musical, occasionally boasted with a cheesy sense of horror which populates in 70s and 80s slasher flick. it is amazing that bacall still remains a touch of class and a tint of hipster glamour in 1981, but wouln't it be absurd that all sally ross has to do is raising her precious hands to type a letter to stop this dreadful madness but she's not even courageous enough to do so? but she has guts enough to stick a knife in him at the end? typical star with imperious conceits and insoulciant insolence, who takes admiration for granted.
See Details