Fireworks (Hana-bi)
(1997)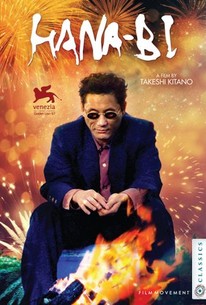 Movie Info
Actor and auteur Takeshi Kitano (who in Japan also uses the stage name "Beat" Takeshi, primarily for his work as a television comedian) wrote, directed, edited, and starred in this unusual crime drama. Nishi (Takeshi Kitano) is a policeman whose emotions seem to run only on two extreme paths -- either quiet contentment or brutal rage. Nishi's life is falling apart around him; his daughter was murdered, his wife, Miyuki (Kayoko Kishimoto), is dying of leukemia, his partner, Horibe (Ren Osugi), was ambushed by thugs after Nishi left him to visit his wife in the hospital and will now spend the rest of his life in a wheelchair, and another cop was killed coming to Horibe's rescue. Nishi desperately wants to quit his job so he can spend more time with his dying wife, so he borrows a large sum of money from the yakuza (the Japanese mafia) and takes up a career as a painter while he cares for Miyuki. Not wanting to stay in debt to the gangsters, Nishi engineers a daring bank robbery (using his police uniform and an old auto disguised to look like a squad car) and uses the loot to pay off the yakuza and take his wife on a final vacation. However, the loan sharks are not eager to have Nishi off the hook, and they begin complaining that he still owes them interest on their loan. ~ Mark Deming, Rovi
News & Interviews for Fireworks (Hana-bi)
Critic Reviews for Fireworks (Hana-bi)
Audience Reviews for Fireworks (Hana-bi)
Winner of the 1996 Venice Film Festival 'Golden Lion' award, Hana-Bi (roughly translated as 'Fireworks' or 'Fire-flower') is Takeshi "Beat" Kitano's sixth directorial outing and a powerful tale of love, loss and anger. The plot is, as expected in a Kitano film, minimal, following police officer Nishi (played by Kitano himself), an angry and violent cop whose slowly dying wife's medication is being funded for by Yakuza loan sharks. Nishi himself is very much what we've come to expect from Kitano, his stoic expression and silent nature draw a likeness to his roles in earlier films like 'Violent Cop' and 'Sonatine' and his extreme outbursts of violence seem to be the norm now. Where 'Hana-Bi' really establishes its brilliance however is with Hirobe, a police officer who was shot in the line of duty and spends his wheelchair bound days painting. A lot of beautiful artwork is featured throughout the film and all of it is attributed to Kitano himself, revealing a side of the auteur never before seen on film and giving the film the same (if a little weaker) personal feeling found in 'Sonatine'. It's very hard to write about Hana-bi without feeling like I'm repeating what I've said one million times before in my various other Kitano reviews, and in some ways this sums up perfectly what the film is to me, yes it's poignant, brilliant and a deserved recipient of The Golden Lion, but despite all this it just feels a little safe.
Cameron Sherwell
Super Reviewer
An ex cop tries to spend time with his dying wife during her final days, but a Yakuza loan shark refuses to leave him in peace. A typically understated marriage of violence and poetry from Beat Takeshi, Hana-Bi examines loss and mortality in a deeply personal way. It shares many of the themes of Sonatine, but is not as brutally nihilistic; there is much warmth in the often wordless scenes with his wife which have far more humanity than the contrived schmaltz we are used to from most mainstream film making. Takeshi's laconic persona is taken to the extreme in this film as he silently deals with the loss of his child, his wife's illness and his guilt over his suicidal ex-partner's crippling injury, although he still manages to find humour with the use of some oddball supporting characters. In other words another typically brilliant and artful Beat Takeshi film.
This movie is from a list of movies played at the 1997 Toronto International Movie Festival.Its written by Takeshi Kitano and is 103 Minutes long. Its about a police officer in Asia, whose wife is dying of Leukemia and one of his fellow partners gets shot on the job, along with other police officers. What we have is a shell of a man just trying to get through the pain and depression. He only wants what?s best for is wife, and robs a bank to take his wife on her last trip. He owes loan sharks, the police are looking for him. So we have a story that is shown from many angles. This is also listed with New Yorker Films, so you know its got to be good. If your a Rocky Fan, or a Segal Film, then you will not grasp the inner thoughts of this movie, lacks action, but it is a story that is complete with itself, 4 Stars.
Bruce Bruce
Super Reviewer
Fireworks (Hana-bi) Quotes
There are no approved quotes yet for this movie.