Candy
(1968)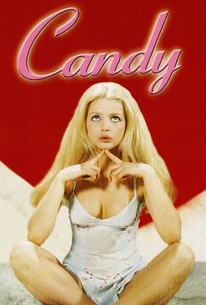 Movie Info
In this big-budget adaptation of Terry Southern's satiric sex farce (the sort of project that could get an immediate green light in the late 1960's and at practically no other time before or since), Ewa Aulin is Candy, a sweet young woman who doesn't seem entirely aware of the powerful sexual desire she brings out in men. While her father (John Astin) and mother (Elsa Martinelli) try to keep Candy in line, the task proves to be all but impossible, as she's seduced by a remarkable variety of men in her journeys, including a booze-addled poet (Richard Burton), a mystical guru who lives on a truck (Marlon Brando), a gardener from Mexico (Ringo Starr), a fanatical military man who refuses to leave his plane (Walter Matthau), a pair of uncomfortably high-strung doctors (John Huston and James Coburn) and even her own uncle (Astin, again). The Byrds and Steppenwolf contributed songs to the soundtrack; the screenplay was written by Buck Henry.
Audience Reviews for Candy
½
"In my country we have a saying, a centipede has a thousand feet but cannot tap dance." "I don't understand the connection." "I guess something got lost in the translation." The mid/late '60s was a great era for mind-bogglingly whacked-out cast lists with equally diverse results, from Casino Royale (abysmal) to It's A Mad Mad Mad Mad World (hysterical), to The Magic Christian whose zaniness Candy most closely resembles. Check it out: Richard Burton, Walter Matthau, Ringo The Beatles Are Still Together Freaking Starr, John Huston, Addams Family's John Astin (in a dual role), boxing legend Sugar Ray Robinson, James Coburn, and the Method Man himself Marlon Brando! Throw in music from the Byrds and a Buck Henry screenplay of one of the decade's most scandalous books co-written by Terry Southern and you've got a cult curiosity that just screams "Watch Me!" Does it measure up? My rating should tell you "yes and no." The episodic format of Candy, played with doe-eyed innocent perfection by newcomer Ewa Aulin, bouncing from one lusty sexual predator to another like an Alice in Molesterland is completely loose-limbed. There's no story development, just some outrageous situations which sometimes produce laughs, and surprisingly little visible nudity for a movie the New York Daily News called "the ultimate dirty movie." The only social commentary I can see is that men in what are considered lofty, respected, or trusted fields - a poet, a surgeon, a military C.O., a hospital administrator, an uncle, a guru - are just as base and lascivious as anyone else. Matthau is a riot as the leader of a paratroop commando unit that has been in constant airborne mobilization for six years, and Enrico Salerno has a great bit as an experimental filmmaker. "Did you see my last project? It was called 'Gumbo.' Soup, nothing but soup!" Richard Burton has a lot of fun as the lecherous poet MacPhisto whose every utterance is dramatic, and with long hair and billowy clothes constantly being blown by unseen fans. But if there's one "must-see" performance, it's Brando in fall-down funny hijinks as the guru/charlatan. His 15-20 minute see-it-to-believe-it contribution makes this up-and-down (or should I say in-and-out) mishmash worthwhile by himself.
Doctor Strangeblog
Super Reviewer
A perverted, frantic, nearly incomprehensible attempt at comedy. Difficult to sit through, and even harder to follow. It's amusing to watch talented actors playing ridiculous parts, but aside from that Candy is just an arduous task to get through.