Funny Games
(2008)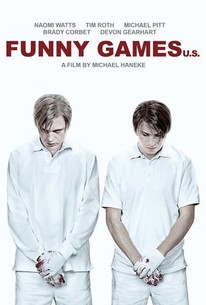 Movie Info
In this provocative and brutal thriller, a vacationing family gets an unexpected visit from two deeply disturbed young men. Their idyllic holiday turns nightmarish as they are subjected to unimaginable terrors and struggle to stay alive.
People Who Like this movie also like
News & Interviews for Funny Games
Critic Reviews for Funny Games
Audience Reviews for Funny Games
A shot-for-shot remake in English of the brilliant Austrian thriller that Haneke himself made ten years before - which makes me wonder what the point is, since it is the exact same plot. At least it is worth checking out for Naomi Watts' spectacular performance.
Carlos Magalhães
Super Reviewer
½
Michael Haneke's 'Funny Games' is a work of existential nihilism that challenges the idea of 'Hollywood morals' and audience's complicity in acts of violence. The story sees two serial killers/ home invaders subject a family to a series of games in which humiliation is key and mercy is left behind. 'Funny Games' suffers from an undeserved sense of self-brilliance, the fourth wall is often broken as the killers question if viewers are enjoying/agreeing with what is happening on screen in a manner which assumes they don't,this is wrong. As the film progresses it becomes that which it criticizes, elevating itself to the enjoyable levels of 'torture porn' it desperately wants to parody. The failings of the film's proposed ideologies is furthered by the moments the family being tortured are alone, which are boring and over-long, somewhat building excitement for their deaths. Despite all this 'Funny Games' is strengthened by convincing performances and a few experimental devices that separate it from the norm. Overly heavy handed and boring, 'Funny Games' fails to reach the levels of greatness it's so sure it has and offers less than the torture films it grows to become.
Cameron Sherwell
Super Reviewer
½
Until this film, I don't think I had ever watched a shot-for-shot remake, let alone one made by the same filmmaker as the original. I mean, what's the point, exactly? Perhaps a wider appeal in America/the English-speaking world, which traditionally resists reading subtitles...? Unfortunately, I don't really like Tim Roth, (he's no Ulrich Muhe, not even close), and after seeing the original, there's not much punch in the remake, nor even any subtle corrections to strengthen what was already there. I'll give it a decent rating, though, because other than the Roth vs. Muhe question, it's hard to find much difference. Personally, I'd watch the original, because it was made when it needed to made, when its point might have been strongest - plus, on that DVD, you get the interview with Haneke that's crucial to understanding just what the heck is going on, and why anyone would make a film like this. You'll get a chilling story whichever version you choose though, and one that ably points out how calmly we accept violence on film - and why, perhaps, we shouldn't.
Daniel Perry
Super Reviewer
Funny Games Quotes
| | |
| --- | --- |
| Anna Farber: | Why don't you just kill us??? |
| Anna Farber: | Why don't you just kill us? |
| Peter: | You shouldn't forget the importance of entertainment |
| Peter: | You shouldn't forget the importance of entertainment. |
| | |
| --- | --- |
| Anna Farber: | He only wants to have a game. |
| Peter: | Funny game. |
| | |
| --- | --- |
| Paul: | We're not up to feature film length yet. |