A Dog's Life
(1918)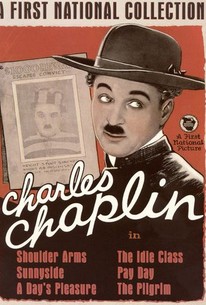 AUDIENCE SCORE
Critic Consensus: No consensus yet.
Movie Info
In this film, Charlie Chaplin plays a tramp who shambles around the cold, cruel world with his dog Scraps. Unable to land a job, Charlie and Scraps cadge a meal from lunchwagon proprietor Syd Chaplin. Things take a turn for the better when Charlie befriends down-and-out singer Edna Purviance.
Critic Reviews for A Dog's Life
Audience Reviews for A Dog's Life
Chaplin delivers a very well-inspired and hilarious 3-reel silent that has one classic scene after another - and the one in which he tries to get his money back in the ballroom is the funniest.
Carlos Magalhães
Super Reviewer
Charlie and the dog Scraps live similar lives on the streets. There are some laugh out loud slapstick routines, but by and large it didn't tug at my heartstrings as much. Do you find Chaplin co-starring with a kid or a dog more pathetic? The dog seems sadly anesthetized in several scenes. Chaplin's brother Syd appears as a lunchwagon owner in a great scene. Edna Purviance is a naive singer at the bar where all the poor immigrants hang out. She sings sad songs and is incredibly awkward trying to flirt with the Tramp. Eventually, the Tramp and Scraps find cash in a wallet stolen by a pair of thieves, then the thieves steal it back. The best bit is when our hero knocks out one thief and thrusts his arms under the thief's armpits to act out a scene that will convince the other thief to give up the money. I enjoy the fact that very few title cards are necessary when Chaplin is telling a story.
Byron Brubaker
Super Reviewer
½
A very fast paced silent three-reeler from the legendary Charles Chaplin, it was also the first film ever to make a million dollars upon it's release! The film follows Chaplin as a tramp who saves a poor pup named Scraps and the two form a friendship and stick together. Scraps eventually finds and digs up a wallet that a local thief has stashed in the ground near the tramp's sleeping lot (literally an abandoned lot) and makes the tramp rich. Of course a couple other thugs oversee the tramp's new fortune and decide to steal it from him and split it for themselves. Along with a down and out girl named Edna and Scraps, the tramp sets out to get his money back and eventually ends up escaping the madness and confusion of the local bar and leave with Edna and Scraps. The film then cuts to the future where Edna and the tramp have their own little farm and home along with Scraps who has a litter of pups alongside her. This is a very fun and touching short and Chaplin shows his perfect metronome like timing and physical flexibility and skill. Not to be missed is the performance that the pup who plays Scraps gives as she puts up with a lot of the tramps antics and is highly trained. This is a great early look at Chaplin's style and skill and a fun watch, keep an eye out for his stunningly accurate and timed editing throughout as well!
Chris Browning
Super Reviewer
A Dog's Life Quotes
There are no approved quotes yet for this movie.