Angst
(1983)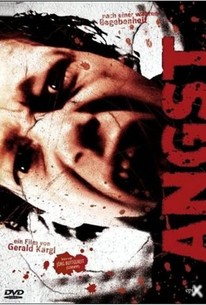 AUDIENCE SCORE
Critic Consensus: No consensus yet.
Movie Info
Partly based on a true story and partly fiction, this humanly degrading drama does not concern monsters of the imagination, but a murderer who is paroled after 10 years in prison and then kills again in a particularly inhuman way. He breaks into a house and murders its three occupants when they return: an elderly mother, her mentally handicapped son who is confined to a wheelchair, and her pretty daughter. The killer drinks the blood of one of the victims while reciting all the abuse he experienced as a child that made him commit this act against three strangers. As the story continues to unfold, psychiatrists are brought in to discuss the man's mental condition. The gruesome scenes were filmed with the best cinematography possible, implying the director wanted to emphasize the gore. It is difficult to find any valid reason in this film for dwelling on the killings and the murderer, other than simple exploitation for a better box office take. ~ Eleanor Mannikka, Rovi
News & Interviews for Angst
Critic Reviews for Angst
All Critics (3) | Fresh (3) | Rotten (0)
Gerald Kargl's home invasion splatter flick--the only film he ever made--is a fascinating experience despite the sordid subject matter.
It has Henry: Portrait of a Serial Killer (1986) vibes.
This is as close as you're likely to get to a real serial killer and survive.
Audience Reviews for Angst
½
Considering this was made back in 1983, this film is still quite ahead of it's time in terms of style and content. Stylewise, this is a very well shot serial killer film, that brings an arthouse feel to the exploitive elements. In terms of content, even today most serial killers are portrayed as being in control; devious and powerful criminals who are always one step ahead of everyone else despite their sickness. Not so in this film, which I suspect is closer to a real serial killer than a lot of it's ilk. The killer here is a crazed lunatic with an insatiable bloodlust and has absolutely no control over his urges. The fact that the film follows him on his first day out of prison is a telling sign that this guy has no place in society. Also, since he is providing the voice over, we see how he can justify everything he is doing, even though near the beginning he knows he is nowhere near being anything close to logical. A great film in the serial killer genre that I am surprised isn't better known.
Christopher Brown
Super Reviewer
Angst Quotes
There are no approved quotes yet for this movie.