Battle Queen 2020
(2000)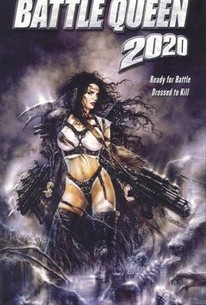 AUDIENCE SCORE
Critic Consensus: No consensus yet.
Movie Info
Hot action in a frozen world sets the stage for this sexy sci-fi thriller. In the year 2020, after the Earth has been plunged into a second Ice Age, most of humanity has perished and the handful of survivors are ruled by The Elite, surface-dwelling overlords who control the planet's dwindling resources as the others live a hand-to-mouth existence in crude underground cities. Gayle (Julie Strain) is Lead Mistress of the Elite, who selects the men to be recruited as soldiers and the women who are forced to become the sexual playthings of Gayle's Elite brethren. However, the oppressed subterranean masses are mapping out a plan to win back their freedom -- a plan in which Gayle plays a surprising role. Battle Queen 2020 was produced under the title Millennium Queen.
Critic Reviews for Battle Queen 2020
There are no critic reviews yet for Battle Queen 2020. Keep checking Rotten Tomatoes for updates!
Audience Reviews for Battle Queen 2020
½
OK I admit it, I only watched this because of the sexy film poster and the title, I kinda got the feeling there would be some good sexy kick ass femme fatale action. Was kinda thinking along the lines of those cult classic trashy female barbarian flicks 'Barbarian Queen' and 'Deathstalker', alas no, this is much worse. I didn't expect much of course and there is some soft porn sex scenes in here, bit of boobie action but nothing else. The plot is nonexistent to the point I'm not really what the plot was about, just something about a higher class of people living it up in a post apocalyptic world with their own personal strippers n whores on demand (just sounds like the directors fantasy...and all males). Everyone else is poor, living underground and starving. Oh this is all because a meteor hit the Earth and destroyed it, at the same time somehow causing this divide in society. Of course the higher echelons take advantage of the scummy poor folk, using the younger ones blood to rejuvenate their own. Oh so its a vampire kinda flick then? meh...sorta I guess, there's no real explanation for anything, they just do it. Its up to Julie Strain to save them...somehow, does she? I dunno, I think her occupation as head Mistress for the strippers n whores was much more interesting. End of the day its pretty obvious to all that the film is merely a fan pleaser for the big breasted Julie Strain. There is nothing much else to speak of, no real action accept for a few hokey fights and the ultra hot looking Eva Nemeth in her bondage outfit. Yep I've never heard of her either but my god she looked stunning. Don't get all excited just because I have mentioned soft porn, its so basic and forgettable I didn't even get aroused by it, may as well have been James Bond. I can only recommend this for the mystery female Nemeth in her bondage outfit, the rest is garbage.
Phil Hubbs
Super Reviewer
Battle Queen 2020 Quotes
There are no approved quotes yet for this movie.