La Beauté du Diable (Beauty and the Devil)
(1950)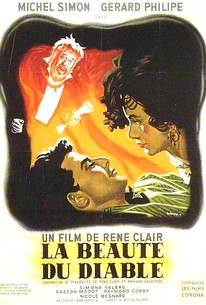 AUDIENCE SCORE
Critic Consensus: No consensus yet.
La Beauté du Diable (Beauty and the Devil) Photos
Movie Info
La Beaute du Diable came into being when French filmmaker Rene Clair became fascinated with a structural defect in the "Faust" legend. Clair felt that the beginning and end of the story was perfect, but the middle section, wherein the title character blasphemes the Pope, was "silly." The director also wondered what would happen if, instead of forcing Faust to sign his soul away in exchange for happiness and knowledge, the Devil were to ask for nothing, and simply assume that Faust would sign the contract at a later date. As played by Michel Simon, Clair's devil -- or Mephisto --is actually quite a likeable fellow. In fact, he's more fun to be around than the somewhat ethereal Faust of Gerard Philipe. In establishing the "reality" of his fantasy, Clair utilizes several adroit camera tricks to get the audience to swallow the tale. Nicole Besnard co-stars as Marguerite, the vessel of Faust's ultimate redemption. ~ Hal Erickson, Rovi
Audience Reviews for La Beauté du Diable (Beauty and the Devil)
Despite his being honored for his long and glorious academic career by his peers, Professor Henri Faust(Michel Simon) is not enjoying the celebration in the least, what with the horror of old age and not having completed his life's work. And that's where Mephistopheles(Gerard Philipe) comes in, as he has an offer for Faust to reclaim his lost youth in exchange for his soul. But he is not biting. So, Mephistopheles gives him a free sample. Now young and handsome, Henri ironically does not have any money to pay for dinner for Marguerite(Nicole Besnard) and her friends, and goes back to his former apartment where he is arrested for theft and murder... Over time the story of Faust has been reduced to little more than a metaphor(and one which can be currently applied to certain political leaders), so it's nice to finally to see a spirited adaptation like "La Beaute du Diable" that is elevated by the excellent tandem acting of its leads. While the movie proves once and for all that there is no such thing as a free lunch, as more than one character is done in by greed, this version is as much a product of the time just after World War II it was made as much as anything else, and not in a bad way, either. So, not only does it show what can be done with smoke and mirrors, but out of that, we get references to the war's weapons of mass destruction, along with the stated theme of man's hell being worse than god's.
La Beauté du Diable (Beauty and the Devil) Quotes
There are no approved quotes yet for this movie.