Blood Trails
(2006)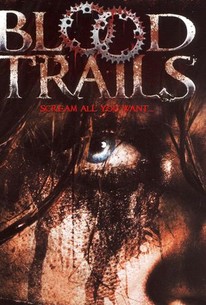 AUDIENCE SCORE
Critic Consensus: No consensus yet.
Movie Info
A couple attempting to rekindle their romance finds that happiness sometimes comes at the ultimate price in director Robert Krause's bloody tale of obsession and revenge. Anne has been unfaithful to her boyfriend Michael, but now physical lust has taken a backseat to true love and the cheating girlfriend is looking to make up for her careless indiscretion. As a means of making amends, Anne takes Michael on a trip into the wilderness in hopes that a little time alone will allow the couple to move past their problems. The only problem now is that the man Anne cheated with wants her all to himself, and he's willing to kill anyone - especially Michael - who stands in his way. As the sun goes down over the forest landscape, what was once a trip designed to keep the flames of passion alove becomes a harrowing battle for survival against a man who will stop at nothing to prove his undying love.
Critic Reviews for Blood Trails
All Critics (3) | Fresh (1) | Rotten (2) | DVD (2)
...an entirely misguided endeavor that could only have worked as a five-minute short (maybe).
The flick feels like it wants to be a stark, dark and female-empowered shocker like High Tension, yet it fails on nearly every count.
Blood Trails does not blaze any new trails, but it's got style, substance, and scares.
Audience Reviews for Blood Trails
Awesome story\plot, Fair acting, and a good amount of blood. this award winning psychological slasher film easily succedds into being a very disturbing, yet enjoyable film. A classic.
Jacob Palacio
Super Reviewer
Directed by: Robert Krause. Starring:Rebecca R. Palmer, Ben Price, Tom Frederic. <<"You can't outride death">> The story follows Anne, a bike enthusiast who happens to have a one night stand with another which turned rough and the memory haunts her. Three days later, her and her boyfriend travel to the mountains for a bike trip and before long, the man she slept with starts stalking her and she must do whatever she can to survive his vicious ways. Wow...OK the main reason I rented this was because of the video store I just started working at. It's classed as a 'library' because it stocks the largest range of DVD's I have ever seen and you can find anything there. I saw this in New Releases with the reviews all over the cover and really was expecting a hidden gem...it really is not. The one star goes to some of the visual style. The editing is interestingly done, slightly hyperactive but with the attempt at trying something a little different with the camera work and keeping up with the fast pace of the bikes, it works well for the most part...but that isn't going to save the film from what it is. Horribly dull, badly written with bland dialogue and one of the stupidest victims I have seen in some time, the film plods along with nothing going for it. The idea of the film is as old as anything and is simply giving a new cover, but once you get through a 3rd of predictability and every horror cliché available, the new direction wears off. The acting is mediocre. I had heard that the main actress Rebecca R. Palmer gives a strong performance...was that for this film? Aside from a few moments towards the end (which by the way, is the only halfway decent part of the film), she over delivers through the 'intensity' and is bland everywhere else...and don't get me started on the rest of the cast. I guess we all pass these films from time to time (more recently in the last decade), but it wasn't a great start to what I thought could be a good run of 'unknown' films. Bland, horribly written and smothered in cliché, Blood Trails isn't worth the rental.
Craig Sutcliffe
Super Reviewer
Blood Trails Quotes
There are no approved quotes yet for this movie.