Disneynature Born In China
(2017)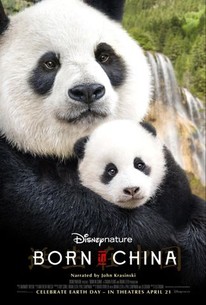 TOMATOMETER
AUDIENCE SCORE
Critic Consensus: Disneynature Born In China delivers more of the breathtaking footage the series is known for -- and more than enough cuddly anthropomorphic action to keep the kids entertained.
Disneynature Born In China Videos
Disneynature Born In China Photos
Movie Info
Disneynature's new True Life Adventure film "Born In China" takes an epic journey into the wilds of China where few people have ever ventured. Following the stories of three animal families, the film transports audiences to some of the most extreme environments on Earth to witness some of the most intimate moments ever captured in a nature film. A doting panda bear mother guides her growing baby as she begins to explore and seek independence. A two-year-old golden monkey who feels displaced by his new baby sister joins up with a group of free-spirited outcasts. And a mother snow leopard--an elusive animal rarely caught on camera--faces the very real drama of raising her two cubs in one of the harshest and most unforgiving environments on the planet. Featuring stunning, never-before-seen imagery, the film navigates China's vast terrain--from the frigid mountains to the heart of the bamboo forest--on the wings of red-crowned cranes, seamlessly tying the extraordinary tales together.
Cast

News & Interviews for Disneynature Born In China
Critic Reviews for Disneynature Born In China
Audience Reviews for Disneynature Born In China
While Disney Nature's Born in China is a fascinating mix of gorgeous animals and breathtaking cinematography, it does tend to feel a little too staged for my liking. I'll always support documentaries like Born in China, especially if they provide a different viewpoint on creatures and landscapes that are unfamiliar to most of the general public. Born in China focuses on a few animals, including Pandas, Golden Monkeys, and Snow Leopards. All of which, center upon one common theme, family. Although the storylines feel entirely made up, which include gimmicky names, the scenarios aren't. It's interesting to watch different animals try and fight the elements and other competitors to provide for their family just like us humans. In that way, Born in China is for people of all ages. But when the film adds too much fake subtext from John Krasinski's narration, it feels like something for kids looking for some silly giggles. Because it is Disney and the audience is mostly families, the film does feel a little safe. Sure, we do have Planet Earth and other documentaries that show us some of the harsher sides to animals of the wild, but I think we could have used a little more from each animal in Born in China. Either that, or just focus on 1 or 2 animals instead of a half dozen. Does Born in China accomplish what it set out to do? Yes. It's an entertaining and at least somewhat informative look at wildlife in parts of China. However, there are several moments that feel entirely fabricated and may take away from the viewing experience. In short, if you're going in looking for a short history lesson, I think you'll come out at least pleased with what you get. I mean, who can honestly be upset after watching pandas for an hour and a half. 6.5/10
Thomas Drufke
Super Reviewer
½
Born in China is the best Disneynature release since their first film Earth. It is a departure from the one species centered films they have been releasing the last couple of years. Instead, Born in China uses remarkably intimate cinematography and footage to capture the lives of several species living the in the beautifully natural outskirts of China. The four main storylines are all alternately adorable (pandas!) and sometimes tragic and heart-wrenching. Disney weaves its magic in the tales of the families and the film never devolves into overly sentimental and manipulative, which couldn't necessarily be said about Chimpanzee and Bears. Disney also does a good job showing the true Circle of Life consequences, especially during the snow leopard chunk of the story which is also the most emotional. Born in China could have done with a few more facts on the issues of endangerment the creatures face and the idea of global warming, but it isn't a huge deal when the film is this engaging, emotional and beautifully photographed. It is a nice, pleasant Earth Day release that is mercifully brief. Rating: 86
Once again, here's another nature theatrical film. Either you love them or hate them, they would still be around regardless of what we might be thinking but Disney might be around making Born in China look just like a direct-to-video copy of the beauties of nature disc and that's like saying way too much here.
EpicLadySponge the Adventurer
Super Reviewer
Disneynature Born In China Quotes
There are no approved quotes yet for this movie.