Born Losers
(1967)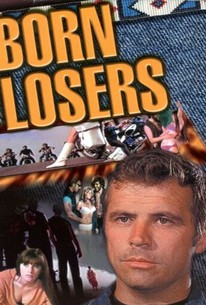 Movie Info
One of the first recognizable "vigilante" films in American cinema, The Born Losers tells the story of Billy Jack (writer-director Tom Laughlin), a half-breed ex-Green Beret and Vietnam veteran who makes it his business to rescue a cute mod girl from a crew of vicious bikers. Much to his chagrin, however, he finds his lethal training gets him in as much trouble with the racist cops as with the bikers, and he soon becomes embroiled in a violent struggle against all parties involved. There is blood-letting and bone-breaking to burn in The Born Losers, not to mention lots of preaching on the part of Laughlin. However, it still tops the more famous sequel, Billy Jack, and it qualifies writer-director-star Laughlin for the status of true auteur.
Critic Reviews for Born Losers
All Critics (5) | Fresh (3) | Rotten (2)
Yeah Babeee.
February 13, 2008 | Rating: 4/5
Jack kicks plenty of butt, and the film has some neat little twists and turns to keep things interesting - and an ending the really has some guts.
Audience Reviews for Born Losers
It's interesting to compare "Billy Jack" and "Born Losers," and see how star/director Tom Laughlin tweaked the formula between films. "Born Losers" has minimal karate, and there's little sense of Laughlin having any serious training in the discipline. He also hadn't quite nailed down his signature gimmick of smiling patiently in the face of provocation, and making the audience anticipate the coming meltdown. Billy Jack still faces anti-Injun prejudice, but "Born Losers" doesn't add elements of Indian culture like later Billy Jack vehicles. "Born Losers" also has less of a rousing, anti-establishment feel, because Billy Jack is mostly vying with loathsome outlaw bikers rather than everyday townsfolk. On the positive side, "Born Losers" is much less preachy and pretentious, and cute lead actress Elizabeth James is more appealing than Laughlin's later co-star (and wife) Delores Taylor.
Eric Broome
Super Reviewer
Billy Jack is awesome, I think this is my favourite of the series, it has Billy fighting bikers who are making trouble for a girl. It's pretty cool, check it out.
½
First appearance of Billy Jack isn't as preachy and more action based.
Anthony Valletta
Super Reviewer
Born Losers Quotes
There are no approved quotes yet for this movie.