Comradeship (Kameradschaft)
(1931)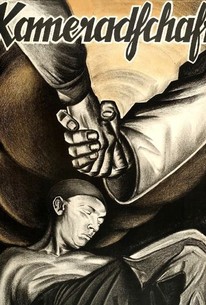 Comradeship (Kameradschaft) Photos
Movie Info
Following World War I, a group of French miners are trapped in a cave-in along the German/French border, causing German miners to defy their superiors and mount a rescue mission for their one-time enemies. This plea for peaceful co-existence by German director G.W. Pabst was hardly a financial success.
Critic Reviews for Comradeship (Kameradschaft)
Audience Reviews for Comradeship (Kameradschaft)
½
G.W. Pabst directed this inspiring tale of a French coal-mine accident and the German miners who cross the border to help rescue the buried men. The film's realism is remarkable, such that it's hard to even imagine the sets' construction or how all the cave-ins and underground fires were staged. On the other hand, the procedural intrigue usually found in this sort of story is missing -- the action merely shows rescuers going down and dragging survivors back to the surface. Not much else. The accident's scope doesn't quite register either -- we're told that 600 miners are stranded (most of them killed, presumably), but the depiction gives no sense of such a huge disaster. Scattered people are pulled out, and the people gaily celebrate. Happy ending? Perhaps not. Make sure to see the German cut! I researched the film afterwards, and found that the German version is seven minutes longer than the American cut I saw on TCM. The longer version is on YouTube, and has an opening prologue and cynical closing scene that markedly improve the film. Minus the crucial final scene, "Kameradschaft" has more of a "hooray for Germany!" tone that's mighty tough to swallow considering what happened in Germany just a few years after the film's release. Rating: three stars for the US version, and three and a half for the German version.
Eric Broome
Super Reviewer
Comradeship (Kameradschaft) Quotes
There are no approved quotes yet for this movie.