Death Race 2
(2010)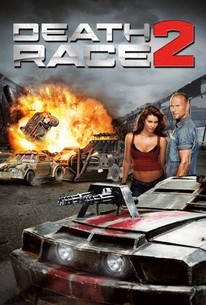 Movie Info
Luke Goss, Ving Rhames, Sean Bean, and Danny Trejo headline director Roel Reiné's thrill-ride sequel to Paul W.S. Anderson's hyper-violent remake exploring the origins of the most notorious Death Race competitor ever to take the wheel. Featuring a screenplay by Tony Giglio (Chaos), Death Race 2 follows convicted cop-killer Carl Lucas (Goss) as he vies for freedom by competing in the most deadly reality show ever conceived. The U.S. economy has completely collapsed, and as lawlessness spreads, private prisons crop up all across the country. Corruption reigns in these for-profit penitentiaries, and Terminal Island is home to some of the most violent offenders in the world. Lucas has just been handed a life sentence for killing a cop. Just when it looks like he'll be spending the rest of his days behind bars, unscrupulous television producer September Jones shows up seeking contestants for a brutal new game show where prisoners battle it out in high-performance death machines equipped with lethal weapons. The reward for surviving this psychotic demolition derby: freedom. Before long Lucas is fastening his seat belt, and preparing for the ride of his life. By the time this race is over, an apocalyptic legend will be born. ~ Jason Buchanan, Rovi
Critic Reviews for Death Race 2
Audience Reviews for Death Race 2
½
Roel Reine's Death Race 2 does what it can with its budget.
Considering this is a follow up to its predecessor, Death Race, the story takes place before hand, making this completely watchable without having seen the first. At just over 90 minutes, the first half is a let down. Sure, the story and major characters need to be setup, but when the title of the film contains the word "race", it would be nice to see that. Instead, it becomes a journey to get there.
For a straight to video picture, the action and violence is quite good without much dependence on CG. Most of the budget definitely goes here as seen with the vehicular destruction.
The cast is decent, same as the acting with Luke Goss as the lead. Danny Trejo and Sean Bean back him up nicely, while Lauren Cohan and Tanit Phoenix are extremely easy on the eyes.
If Death Race 2 isn't a disappointment, that's because of its second half.
½
Well for a straight to DVD release this was pretty solid stuff, in fact its just as good as the first in terms of looks, action and quality and kinda surprises me why it never got a proper release. Well that's what I thought at first haha after finishing I realised why it may not have gotten a bigger release, simply its just the same as the first in everything. Now don't get me wrong its not a poor film, its actually a decent 'Running Man' style flick with good destruction derby sequences and plenty of pointless over the top blood BUT its the same as the first. Nothing new here anywhere I'm afraid right down to bringing back another 'Frankenstein' and using all the same types of cars. Cast attracted me with Rhames, Goss, Trejo and Bean (great line up) plus there are some nice girls in here too ;) but the film kinda rollercoasters and has good bits and poor bits and then bits which are directly copied from the first. Never did like the computer game angle it uses with the race either, comes across as a 'WWF' show, apart from that if you can accept its basically the first all over again then enjoy.
Phil Hubbs
Super Reviewer
The sequel to the remake of Death Race is a very good improvement over the first film. This a prequel detailing the origins of Frankenstein, and for a straight to DVD release, it's a very good film with an interesting plot, which actually was very well done, even though it wasn't perfect. Acting wise, there were some decent performances, nothing remarkable, but the action was far more engaging than the first film due to the fact that the plot was more interesting and intriguing to me. Death Race 2 is one of the few Straight to DVD titles that is better than the theatrical release. In terms of a prequel, this film succeeds were many other prequels have failed. Sean Bean is great here as well and he makes for an interesting villain. I was pleasantly surprised by this second entry and it was much better in terms of mindless action and good plot. The origin story of the race was very good, and the cast did a good job with the film's material and one of the reasons that this sequel works so well is that the 1975 original was a low-budget B movie, and this one has all the ingredients of a good B movie and it makes very entertaining and fun for action junkies. Go into this one expecting a more in depth plot with good, mindless action, and you're going to have fun with this one. This is one of the best popcorn action flicks to go Straight to DVD and if you loved the first one, you'll probably enjoy this one. Or if you're like me and wanted more out of the first film, then this prequel may give you what you were looking for. Death Race 2 is flawed, but man is it a fun, entertaining ride worth taking.
Death Race 2 Quotes
There are no approved quotes yet for this movie.