Diamond Dogs
(2008)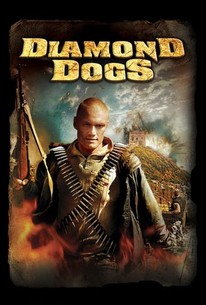 AUDIENCE SCORE
Critic Consensus: No consensus yet.
Movie Info
A group of American fortune hunters enlist the aid of an American ex-patriot and ex-Army officer in seeking out a priceless treasure in the mountains of China, only to find their mission complicated by forces beyond their comprehension. The story begins in the 1930s, when the Soviets were cracking down on religion. A Buddhist artifact known as the Tangka was smuggled across the border into China, and secretly hidden deep in the mountains. The diamonds decorating the gold-inlaid textile alone are rumored to be worth $50 million, prompting a team of fearless fortune hunters to travel halfway around the world for an adventure that could make them rich beyond their wildest dreams. But these adventurers are going to need some help if they hope to recover the Tangka and make it back home alive, so they travel to inner-Mongolia in search of an experienced American ex-patriot named Xander Ronson (Dolph Lundgren). Ronson has served his time in the military, and now all he wants is to fade into obscurity while indulging in drink and women, and participating in the occasional bare-knuckle brawl. But Ronson is no fool; he realizes that if her were to find the Tangka he would never have to work another day, and he aggress to help the mercenaries track down their treasure for a healthy finder's fee. What the treasure hunters have failed to realize, however, is that Ronson is being tracked by a group of violent Russian mercenaries, and that the Tangka is protected by a sinister force with seemingly unlimited power.
News & Interviews for Diamond Dogs
Critic Reviews for Diamond Dogs
Audience Reviews for Diamond Dogs
Now this Dolph offering is much better and even quite good as Dolph beats his way through many baddies across Mongolia in search of an ancient scroll thing in an 'Indy' type adventure. The film starts with a good illegal street fighting sequence which could of progressed into a really good fight flick (ala 'Bloodsport') but the treasure hunting theme is still fun. The cast isn't too bad in this romp, Shriver being the best in a curious way as he looks and comes across as Joel Schumacher, for real!!. He also plays the creepy scroll searcher really well and with a neat camp twist. The action is OK but nothing too special where as the location work is reasonable and unique being in Mongolia but the baddies are the same usual shaven headed thugs which is just so dull. Its just acceptable in my opinion but nothing brilliant.
Phil Hubbs
Super Reviewer
Could of been better if it was bigger budget and was better excuted. But manages to be a decently entertaining action-adventure of the independent film world.
Good hard-hitting adventure with Dolph Lundgren as I believe this is the rip-roaring action of Saraha meets Tomb Raider.
Dean McKenna
Super Reviewer