Drive-In Massacre
(1976)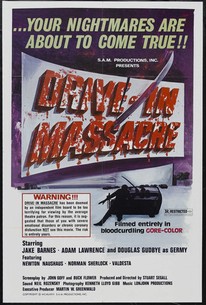 AUDIENCE SCORE
Critic Consensus: No consensus yet.
Movie Info
Basically the final act of Peter Bogdanovich's Targets stretched to feature length (and without any redeeming subtext), this weak slasher thriller involves a psycho who stalks unsuspecting moviegoers with a variety of sharp implements, particularly a massive sword, during a drive-in screening of a cheesy western. This naturally leads to various scenes of necking patrons being shish-kebabbed with the weapon of choice. Although this might have been an amusing novelty when actually shown at a drive-in, it's just a dreary mess on home video, making the otherwise terse 80-minute running time seem like three hours. One trivial point of interest is the behind-the-camera participation of familiar "B"-movie character actor Buck Flower, who collaborated on the screenplay.
Critic Reviews for Drive-In Massacre
There are no critic reviews yet for Drive-In Massacre. Keep checking Rotten Tomatoes for updates!
Audience Reviews for Drive-In Massacre
This movie has some high points, but it could have been so much better. First it has some good blood and gore, good mystery, and then a great ending. But on the other hand, the acting isn't great, and neither is the cinematography. Overall, it's an okay movie.
Drive-In Massacre has got one terrific concept for a slasher film; however the execution of the film is very bad. Now, the film fails because it really has no plot development and the film is slow, lumber on and on and really goes no where. I think this is sad, because the idea for the film is excellent, however, the execution of the film is so bad, and it's awful. This had so much potential to be a good horror film, instead the film is badly acted (even by horror standards) and the plot doesn't unfold it just stays there, becomes boring, lazy and tired. Then you become lazy, tired and bored. This could have been another slasher classic; instead it has the reputation of being an awful slasher with a ruined good idea. If the film would have been made by someone else who actually know the genre, then maybe the film would have been saved. However, Drive-In Massacre suffers from very poor plot development, bad acting, and bad directing and overall a bad story. The idea is great, a killer on the loose in a drive-in is a good idea, however the story sucks, and takes way too long to get to the point. If you're looking for a slasher film with numerous kills, this is not the one. The film is slow and boring. This one of the worst horror films of the 1970's As a slasher film this one has some decent kill scenes, unfortunately the bad direction of the film makes this film a film not worth watching. Drive-In Massacre is not a good film, unlike other entertaining Grindhouse features of the 70's such as Driller Killer, at least that film was entertaining, but Drive-In Massacre is dull, boring and even though it has a good concept for a plot, the filmmakers didn't know how to make that idea work in an effective horror film. This is a film that should be avoided. The title is the best part about this film.
I enjoyed the shit out of this. Mostly based around two cops investigating several drive-in killings. There's alot of interviewing and interrogating by the cops in this short film, but these still plenty of B-movie goodness and exploitationy smiles and violence. What more do you want? Logic in a film?
Patrick Dolan
Super Reviewer
Drive-In Massacre Quotes
There are no approved quotes yet for this movie.