Echoes of the Rainbow (Sui yuet san tau)
(2010)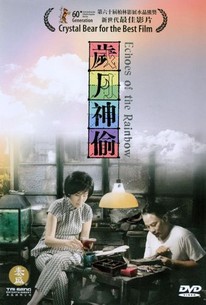 AUDIENCE SCORE
Critic Consensus: No consensus yet.
Movie Info
Writer and director Alex Law presents this warm drama of a family struggling to get by in the face of problems both big and small. It's 1969, and Desmond Law (Aarif Lee) is a sixteen-year-old who is the pride and joy of his working-class parents (Simon Yam and Sandra Ng); he's a top student and a gifted athlete, and his mother and father work hard to send him to a fine private school, even though it's no easy task on Dad's salary as a shoemaker. His eight-year-old brother, Big Ears (Buzz Chung), is the troublemaker in the household; he's a joker who doesn't get good grades, but he has a big imagination and with the upcoming moon landing in the news, his latest ambition is to be an astronaut. At a time when the world seems to be turning upside down, the family struggles to stay together as they face the challenges life presents them, from a dangerous typhoon that could destroy the house to a serious illness in the household and Desmond's difficult relationship with a girl from a wealthy family (Evelyn Choi). Sui Yuet San Tau (aka Echoes of the Rainbow) won the Crystal Bear award at the 2010 Berlin International Film Festival.
Critic Reviews for Echoes of the Rainbow (Sui yuet san tau)
Audience Reviews for Echoes of the Rainbow (Sui yuet san tau)
½
Echoes of the Rainbow provides an autobiographical look back at 60's Hong Kong for the director. Trouble with films like this is that they will always mean more to the maker than the audience. There's a lot to appreciate, from the wonderful recreation of the 60's, the well chosen soundtrack, and a heartfelt performance from the young lead. Outside of that, it is sometimes episodic and melodramatic, but luckily never for too long. Whenever a director makes a film like this it is both uplifting and depressing. With all the memories squeezed into two hours, real or not, it's very predictable. The best parts were when it focused on the young boy, being punished at school, going to the cinema, faking autographs etc. Overall a nice film.
Luke Baldock
Super Reviewer
Echoes of the Rainbow (Sui yuet san tau) Quotes
There are no approved quotes yet for this movie.