Galaxina
(1980)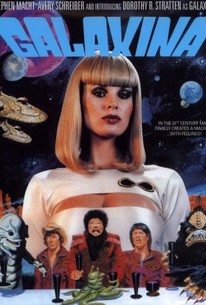 Movie Info
A handsome crewman on the starship Infinity falls in love with the beautiful pilot Galaxina, but there's one problem -- she's a robot. This sci-fi comedy parodies many popular science-fiction films as it follows the lovestruck crewman's attempts to transform Galaxina into a real woman.
Critic Reviews for Galaxina
Audience Reviews for Galaxina
To say that Galaxina fails at everything, is actually an understatement. This sci-fi spoof actually looks pretty good but it fails miserably at humor, references, acting, dialogues and dear lord what the fuck were they thinking with the pacing of this. NOTHING happens for literally 30 minutes. NOTHING. And when it does, you just want it to finnish and end your misery in the process. Hell, the titular character is not even the main characters and only utter two or three sentences on the whole movie. She's kinda hot though, as a playmate, she's actually fine and I can't say that for 90% of other Playboy bunnies. Yes, I ended up a review praising a Playmate for being of my liking, I really can't find many positive things in this, sorry.
Francisco Godinho
Super Reviewer
½
Cheesy but fun Science Fiction space comedy - a post-Star Wars influence, but before Ice Pirates and Spaceballs. The laughably long opening sequence is slow and overdramatic, and doesn't get to the action until after 7 minutes. There is an interesting use of stock classical music throughout. Galaxina is one sexy robot lady and more of an object to drive the plot than a character with interactions. This movie would've soared to new heights if they dared dress her up in skimpier outfits. The crew of the police ship were a bunch of clowns, not meant to be taken seriously.The aliens and planets are silly and low budget. It is fun to watch now and again.
Lafe Fredbjornson
Super Reviewer
Galaxina Quotes
There are no approved quotes yet for this movie.