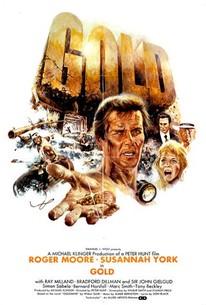 Gold
1974, Action, 1h 58m
1 Reviews
250+ Ratings
Rate And Review
Movie Info
Financiers use the foreman (Roger Moore) of a South African gold mine in their plot to jack the price of gold.
Audience Reviews for Gold
Gold starring Roger Moore and Susannah York had me interested at the start, as it began with a disaster in the gold mine and several miners dying. However it began to slow down as they introduced the main characters in the movie, and other than Roger Moore none were overly familiar to me. The mine owner was played by Ray Milland, popular 20 years earlier (1950's). The major female actress, was played by Susannah York, who I never heard of or recall seeing in anything else. Her acting I thought was subpar, she wasn't all that bad to look at which helped her out. She was all looks to me. The problem was the movie began to remind me of a James Bond imitation as Roger Moore seduced, and married, Susannah York. The middle dragged as the plot now turned to how Roger Moore was going to be framed for destroying the mine along with Rogers flurting/affair with Susannah York. I guess this was necessary or else the movie had no where else to go, since the only thing left was the mine and your not going to get a full length movie out of that. If your a Roger Moore fan, you'll enjoy this movie, for everyone one else, hang on through a little time filler in the middle section and you will enjoy the action packed ending. The script was typical for a 1970's film, disaster/action genre with lots of early explosions and a nail bitter ending. The acting was ok, no acadamy award winners from this one, but over all good enough to keep watching. The special effects were done well considering this was made in 1974 and the costumes/dress fit the movie. I thought the casting was good, everyone seemed to look/fit the role they had. I like happy endings, and this movie did not disappoint me there. If you want to relax, enjoy a little bit of action, romance and vintage Roger Moore, this film will deliver. 9/22/13

This film was poorly made and not interesting in the least. I turned it off after 15 minutes.
See Details