The Gymnast
(2006)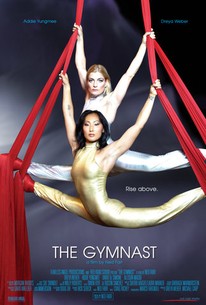 AUDIENCE SCORE
Critic Consensus: No consensus yet.
Movie Info
A down-and-out gymnast receives a second chance at success and happiness in the debut feature from director Ned Farr. After being sidelined by an injury, Jane (Dreya Weber) settles into an unfulfilling life. But when she teams with Serena (Addie Yungmee) for an aerial gymnastics act, Jane gets a new opportunity to perform. Along the way, an unexpected attraction develops between the two women. The Gymnast won both the Audience Award and the Grand Jury Award at the 2006 L.A. Outfest and received honors at a number of other gay and lesbian film festivals.
Critic Reviews for The Gymnast
Audience Reviews for The Gymnast
½
[font=Century Gothic]In "The Gymnast," Jane(Dreya Weber) is a 43-year old masseuse who is hoping to get pregnant to invigorate her loveless marriage, while weaning herself off antidepressants. A chance meeting with Nicole(Mam Smith) leads to a unique opportunity to put her skills to use as an aerial acrobat alongside a younger dancer, Serena(Addie Yungmee).(Even though Jane is decades removed from her prime as a star gymnast, she is in such good shape that it is frankly annoying.) Even after Nicole has to leave for a family emergency, Jane and Serena decide to stay with the program...[/font] [font=Century Gothic][/font] [font=Century Gothic]"The Gymnast" is an engaging movie with relaxed performances that does more than a capable job of balancing its endearing story with the spectacle of the acrobatics, while smoothing over the predictable elements and most importantly not giving into the temptation of exploitation. However, it does end on a rather bizarre note. Basically, the movie is about how there is more to a woman's life than just being the good wife and the good mother, especially if it involves finding fulfillment in doing what she enjoys the most.[/font]
Graceful, beautiful and quiet would be the first things to come to mind to say about this. But then unfortunately it is also ever so slightly shallow in its characterizations, lacks chemistry between the leads and relies too much on the amazing aerial acts. I was drawn in nevertheless, so it gets a good 3 stars - but I might be giving the benefit of the doubt here. I will rewatch it on DVD to form a final opinion on it, as my expectations of this were probably too high.
The Gymnast Quotes
There are no approved quotes yet for this movie.