Harlock: Space Pirate
(2013)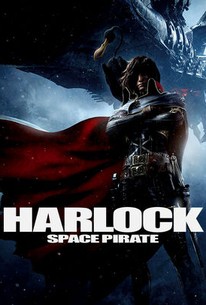 AUDIENCE SCORE
Critic Consensus: No consensus yet.
Movie Info
2977: For many years a mighty battle has been raging across the galaxies as 500 billion humans, whose forebears were exiled from Earth, plan to return to what is still called home. Forced to flee a ravaged Earth, humans have now depleted the corners of the galaxy to which they fled. Earth has now become the most valued and precious resource of all, controlled by the corrupt Gaia Coalition which governs the human race across the different galaxies. Having been exiled and vilified during the battle of the Homecoming War, Captain Harlock and his trusted crew of the Arcadia battle cruiser are the only hope mankind has of discovering the secrets that the Gaia have kept hidden. The Coalition has demanded Harlock's death and the Gaia Fleet's new leader, Ezra, calls on his younger brother, Logan, to infiltrate the Arcadia and then assassinate Harlock, thus forever eradicating the one man standing between the Coalition and their complete control of the Universe. Logan must make a very personal...
Critic Reviews for Harlock: Space Pirate
Audience Reviews for Harlock: Space Pirate
½
IGN recommended this and I must say it was interesting. The plot is a little messy and I wasn't with the story all the time but it threw some unexpected story twists. The sci fi elements were really good and the space shift was a fantastic design. The world building fell into a bitter love triangle which moved things away from the action but it normally swung back into action. The graphics are great during the fight scenes, the issue with motion capture, is the lack of facial expressions. The film has a grand storyline and I hope they continue the series. 21-05-2017.
Brendan Nicholls
Super Reviewer
PS4 graphics, Megadrive story
Marcus Woolcott
Super Reviewer
½
Space Pirate Captain Harlock, helmed by Shinji Aramaki, is science fiction animation bliss.
With nearly 2 hours of screen time to show, plot details fall short in certain places, although there is enough material to complete a full story. The film certainly doesn't travel at light speed and the action doesn't carry the movie by any means.
Visually is where this picture impresses. The renderings of backgrounds and objects are satisfying and the design of the characters, which Japanese animation tends to do well in, takes another step forward with the CG generation.
The voice work is creditable with characters getting the voices they deserve. Shun Oguri, Aoi Yu, Maaya Sakamoto, Haruma Miuri, Kiyoshi Kobayashi and Toshiyuki Morikawa make up a bulk of the major characters.
As far as science fiction animations go, Space Pirate Captain Harlock puts itself in a highly recommendable group.
Harlock: Space Pirate Quotes
There are no approved quotes yet for this movie.