I Am Curious (Blue) (Jag är nyfiken - en film i blått)
(1968)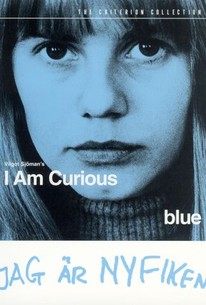 Movie Info
This provincial, erotic film finds a young man having an affair with a 20-year-old woman, who is in turn having an affair with another man. They escape the claustrophobic acceptance of a class-minded society with their sexual escapades. Religion is viciously lampooned; a man who poses as a pacifist beats his wife and fails to get aroused sexually unless violence is involved; and lesbians find mutual splendor among themselves. Colloquial references will fail to register with viewers outside of Sweden. The film, while containing explicit nudity and sexual situations, is toned down from its more racy predecessor I'm Curious-Yellow.
Critic Reviews for I Am Curious (Blue) (Jag är nyfiken - en film i blått)
Audience Reviews for I Am Curious (Blue) (Jag är nyfiken - en film i blått)
½
This notorious Swedish import is mostly remembered for its groundbreaking explicitness and, indeed, some of its content still goes well beyond the mainstream. Lena Nyman's full-frontal nudity no longer carries the jolt that it did in 1967, but co-star Borje Ahlstedt's flopping penis remains a novelty. And a scene with Nyman casually nuzzling his genitals is still something rarely seen outside of hardcore pornography. Unfortunately, this 121-minute film's actual emphasis is not sex but politics. Surly, smug, radical-left politics. An early, endless section with Nyman badgering people on the street with questions about Sweden's "class system" is agony to endure, and the film never recovers from this deadly loss of momentum. The ideas of Nyman and director Vilgot Sjoman are far from deep (equal opportunity is good, Francisco Franco is bad), and the only real intrigue of the political material is some exclusive interview footage with Martin Luther King. It's better to focus on the romantic angle, in which Sjoman and Ahlstedt vie for Nyman's affection. Every cast member plays himself or herself, and the story operates on two levels -- it's a film within a film in which Sjoman is seen directing a fictional movie starring actors Nyman and Ahlstedt. Except the crew is offscreen for such extended periods that the line blurs and the reality of scenes becomes ambiguous. Repeatedly, "intimate" dialogue is unexpectedly interrupted by a camera's appearance. Other Brechtian intrusions include onscreen text and a mock contest for viewers to guess what is in Nyman's bag. It's all rather erratic, and the film's clumsiness is alternately endearing and annoying. What can't be denied is that Nyman gives a brave, captivating performance, despite not being the shapely beauty who would be best suited for such a role.
Eric Broome
Super Reviewer
½
This is both a political documentary and a romantic drama mixed together which doesn't work too good. It's an interesting idea to combine the two, and some parts seem to work, but for the most part it doesn't. Overall, interesting, but it could have been better.
I Am Curious (Blue) (Jag är nyfiken - en film i blått) Quotes
There are no approved quotes yet for this movie.