I'm No Angel
(1933)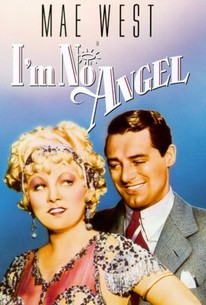 Movie Info
Mae West's second starring vehicle, I'm No Angel casts the divine Miss West as the star performer in a seedy circus. Though she lives with Ralf Harolde, West allows herself plenty of time for other men. When Harolde runs afoul of the law, West secures extra money by becoming a lion tamer. While thus employed, West is "discovered" by playboy Kent Taylor; she willingly accepts his gifts and other favors, but she only has eyes for Taylor's cousin Cary Grant. Still, love takes second place to commerce in West's life, and she ends up suing Grant for breach of promise. When Grant allows her to win the case, she realizes she's truly in love with him after all. By rights, I'm No Angel should have been as big and bawdy a success as West's earlier She Done Him Wrong, but by late 1933 the censors were beginning to have their way with Hollywood. Several of the more ribald (and more hilarious) elements of the film were toned down--not least of which was the title, which was supposed to have been It Ain't No Sin.
Critic Reviews for I'm No Angel
Audience Reviews for I'm No Angel
I'm not a big fan of West's, but I love Grant, and they don't seem to have any chemistry together on screen, which makes their movies together not so great. I wasn't impressed by this movie, it's just like the other movie they did together, nothing new.
½
"i'm no angel" is only the third movie of mae west's and it's been a smashing hit. the script and the dialogues are entirely written by mae west, whose star magnitude is major stock for this movie. the best of it is naturally mae's strong sexually-charged inneundos, and if you expect realism or rationality, you wouldn't find it in this movie. the story is larger than life just as mae west's screen persona. a circus torch singer decides to become a lion-tamer just for the quick bucks to pay her law suit, then she hooks with a rich admiring fan then gets rid of him when cary grant comes along to disuade his friend of this affair due to his marriage engagement. then grant becomes quite enamour of mae, so great shift to the richer and even handsomer grant. anyway the plot goes along like this. the part of mae west being the lion-tamer is kinda absurd, and her number is "putting her head in the big cat's mouth"...and her training skill is just chatting with lions as if they were the men she's about to prey. could you possibly believe THAT? (campy?) cary grant then is still a bit girlish and fresh-faced, 10 years younger than mae, and he looks like a boy-toy prop beside mae. (it is said he dislikes that sort of typecasting in his early paramount days, so later he decides to go freelance. right career move, he does have a series of great classics later with howard hawks like his girl friday) despite all the odd elements, only mae west could make it work! here's some of the best dialogues: fortuneteller: i see a man in your life. mae: only ONE? after kissing cary grant, mae: it's not the man in your life that count but the life in your man! cary grant: you're especially good at night. mae: i'm good, i'm very good; i'm bad, i'm BETTER! cary grant: i hope you don't mind if i get personal. mae: i don't mind even if you get familiar! man: i've been married five times. mae: wedding bell must strike like an alarm clock to you. in my observation, only black women(usually as maids) are in good terms with mae in her movies as if white women all behave like hostile bitches to her. (for stealing their men?) and i must say mae looks even prettier than "she done him wrong," and the curvy thin eyebrows are just amazing! and the wardrobe is alos more glamourous here, especially that black window satin gown with spider pattern. it does show her more styles!
Veronique Kwak
Super Reviewer
½
Mae West makes this with her witty, clever, confident comments. Sassy! Love it. She is fab and has one of the world's greatest actors by her side making her look even better. Loved it.
Jennifer D
Super Reviewer
I'm No Angel Quotes
| | |
| --- | --- |
| Tira: | A figure with curves offers a lot of interesting angles. [Mae West] |
| | |
| --- | --- |
| Tira: | Well, it's not the men in your life that counts, it's the life in your men. |