Jalla! Jalla!
(2001)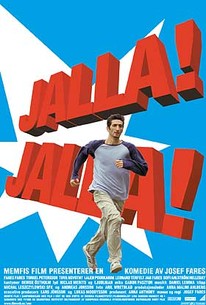 Movie Info
Twenty-four-year-old Josef Fares make his directorial debut with this wild and wooly culture clash about impotence and arranged marriages. Roro (Fares Fares) and Måns (Torkel Petersson) are longtime buddies with very different problems. The son of Lebanese immigrants, Roro is utterly in love with his Swedish girlfriend Lisa, though he is afraid to tell his traditionally minded parents about her for fear of a family brouhaha. Everything is going swimmingly until his parents suddenly announce that they have arranged a marriage for him. Måns, on the other hand, can't remember the last time he had sex with his with his girlfriend and he has come to believe that he is impotent. Meanwhile, Yasmin -- Roro's would be bride -- is clearly as uninterested in him as he is in her, but she's afraid of telling the truth to her bullying brother who's fanatical about seeing her married. This film was screened at the 2001 Toronto Film Festival.
Critic Reviews for Jalla! Jalla!
Audience Reviews for Jalla! Jalla!
i'm really digging josef fares' style. benny from kops is pretty hilarious again this time with "kuk" problems. i guess it's a romantic comedy, a style that i'm not really into at all but fares fares and torkel and tuva really pull off great performances.
Jalla! Jalla! Quotes
There are no approved quotes yet for this movie.