Joy Ride 3: Road Kill
(2014)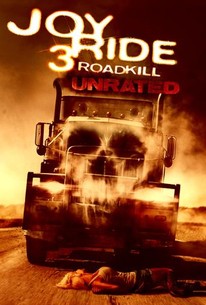 Joy Ride 3: Road Kill Photos
Movie Info
Rusty Nail is back on the road again looking to punish injustice at every turn -- and this time it's with a group of hothead twenty-somethings on their way to the Road Rally 1000. As they drive through a desolate shortcut on the way to the race, an encounter with Rusty turns sour, and soon he is tracking, teasing, and torturing them until the end of the road.
Critic Reviews for Joy Ride 3: Road Kill
Audience Reviews for Joy Ride 3: Road Kill
Ultimately, I do not know why I ended up renting this movie over The Rover. I guess I was feeling more in the mood for something more traditional as it relates to horror. As you can tell, I didn't exactly find this film to be very good, but I don't actually regret picking this over what would've undoubtedly been a better movie. Sometimes you just wanna see a cheaply made horror movie to watch unlikable people be gruesomely murdered. I realize that sounds incredibly morbid, dark, and cruel. But that's the reason these films exist. The Saw series may have pretended to have a story, as nonsensical and convoluted as it was, but the people just cared about the gore. At least most of them, I'm sure there are some fans that were invested in the story, though I can't see how. There's a reason why these films are called, as much as some people hate the term, torture porn. I get people disliking the term, but in many ways it fits. People watch these films to watch others, as I mentioned, die gruesome deaths because they get off on it. Whether it be for the creativity behind the deaths or the amount of gore that's on display, some people get off on this. That is just a fact. Sometimes these films, this one included, have little to no character development to make it impossible for you to care for any of these people. If these people are actually well-written then, surprise surprise, you may actually want them to live. Either that or they're incredibly lazy and are relying on worn-out horror tropes to get by. But, goddamnit, sometimes you just want something cheap, dumb, and easy to watch. Something where you check your brain at the door and you have a couple of laughs at the idiocy of the 'good guys' as they struggle to fight back against a villain. Sometimes you have a film like Tucker and Dale vs. Evil where they use gore to ingeniously subvert horror tropes with hilarious results. Joy Ride 3 is, clearly, no Tucker and Dale vs. Evil, but it offers those in the horror community, who despise subversive and intellectual horror films something to watch. They may not end up enjoying it, but at least their "needs" are being catered to. If you've seen 5 slasher films in your life, then you've already seen one. Only difference is that the killer isn't a giant, machete-wielding, hockey-mask wearing monster, it's a giant killer trucker. That's pretty much the only real difference. There's this hilarious scene where the killer, IN HIS TRUCK, sneaks up on two of the characters in their car. It was absolutely hilarious, because he had all his lights turned off and, apparently, that meant that the truck didn't make any of the regular noises it does. If you've heard any self-respecting truck before, then you know that you can probably hear the fucker coming from a mile away. The engine on this multi-ton vehicle is incredibly loud. So the fact that this guy managed to sneak up on these people is just insulting to the intelligence, but at least it made me laugh. The gore isn't particularly good, nor are the deaths that nasty. They are in theory, but it doesn't really work in execution. This movie is so low budget that they weren't able to give the deaths that nastiness that would've been needed in order to make up for everything else being so substandard. It's not like this film made me pull my hair out because it was so bad. There are so many bad low-budget horror movies that I don't even bat an eye anymore unless they're offensively bad. I can tolerate Joy Ride 3's level of badness. Because, at the very least, I can still laugh at it in some scenes. There's a reason these sequels to slightly successful horror films keep being made ad nauseam, horror fans are some of the most loyal you will find in any medium of entertainment. We will stick with you when there's no light at the end of the tunnel. Series like this and Wrong Turn are proof positive of that. With that said, I wouldn't really recommend this film. It offers some unintentional laughs, but not nearly enough of them to warrant a rental.
Jesse Ortega
Super Reviewer
½
could tell Jason was the trucker instantly :) the killings in this movie were brutal, loved the intro, but the more the film progressed its like the actors stopped trying to act.. all though i was still interested, some of the acting towards the end was just shocking, including the ending which was just....sooo... lame... but I still enjoyed the majority of the movie. was great to see the trucker more in your face, rather than just mysterious, apart from the other two movies where he was always hidden. very cool.
Shawn Montague
Super Reviewer
½
Third entry in the Joy Ride trilogy keeps with the road rage genre of horror films, yet this time around is a bit too derivative. The second sequel to Joy Ride was pretty good considering it was a straight to DVD movie, and with this film, you get something that's quite decent, but it is more of a gore film, even more so than the second, and it completely relies on that aspect, instead of genuine thrills and suspense that the original movie did so well. Joy Ride now seems to venture more and more into the Slasher genre film territory and it loses its suspenseful intensity. I'm not saying that it's a bad thing, but for fans of the original film, you might be disappointed by this outing. Despite this, the film is enjoyable for what it is, and there are effective gory moments that are sure to thrill genre fans. This is decent low budget horror, but I expected a bit more as well. For what it is, it's entertaining and it succeeds at being a tense film, but the real suspense and atmosphere that the original had is absent, and it's what makes this lack a bit. I much preferred the second film, as it had some effective thrills mixed with the gore, and the gore itself was pretty tame as well, while the filmmakers tended to focus more on the plot and suspense established by the first film. Here, we have a film that is a bit more action oriented and is really done in a way that can thrill the gore hounds as it boasts significant blood and guts. Worth seeing if you love low budget horror, and considering that, this one does have flaws, but is decent for what it is.
Joy Ride 3: Road Kill Quotes
There are no approved quotes yet for this movie.