Julian Po
(1997)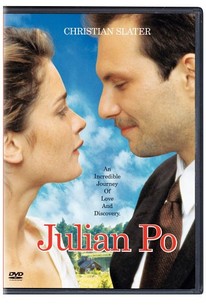 AUDIENCE SCORE
Critic Consensus: No consensus yet.
Movie Info
A man brings new life to a small town by announcing that he's killing himself in this low-key comedy-drama that marked a significant change of pace for star Christian Slater. Julian Po (Slater) is a quiet, unassuming bookkeeper -- so quiet and unassuming, in fact, that most people hardly notice that he exists, as his life quietly slips by. Julian has few friends and little to look forward to in life, so one day he decides to commit suicide. One of his few ambitions in life has been to see the ocean, so Julian plans to take one final vacation in which he'll visit the seashore before doing himself in. En route to the coast, Julian's car breaks down in a small town so obscure that the name isn't even posted at the city limits. Julian's plan is to spend the night, get the car fixed, and move on, so he stops to get a room at Vern's Boarding House, where Vern himself (Michael Parks) informs Julian that he almost never has guests. In fact, the town gets so few visitors that most of the locals view Julian with tremendous suspicion, especially the Mayor (Harve Presnell) and the Sheriff (Frankie R. Faison). After his car disappears, Julian decides to tell everyone, while eating at the only diner in town, that he means them no harm and has not come to cause any trouble -- he's merely decided to go somewhere to kill himself. Suddenly, everyone's attitude towards him changes; at once expressing admiration for his determination and concern for his well-being, the whole town tries to leap to his rescue, and as they gently try to convince Julian to go on living, they gain a new lease on life -- especially Sarah (Robin Tunney), a beautiful but lonely woman who has fallen in love with the quiet stranger. Julian Po was the first feature film for writer and director Alan Wade; it was also released as The Tears of Julian Po.
Critic Reviews for Julian Po
There are no critic reviews yet for Julian Po. Keep checking Rotten Tomatoes for updates!
Audience Reviews for Julian Po
As a standalone film, Julian Po is perhaps 3 stars. I rate it down because I was in the mood for one thing (a quirky romance / comedy) and got something which ended up dark and creepy. It was like seeing Deliverance advertised as an action-adventure starring Burt Reynolds and thinking: "Well, I enjoyed Smokey and the Bandit so let's give this a try!" Well, it was not quite that bad, but still.
Robert Brogan
Super Reviewer
This is a really strange movie, and I didn't care for it. I only saw it because of Slater, and it wasn't worth it. It's not even funny.
Julian Po Quotes
There are no approved quotes yet for this movie.