Le Million
(1931)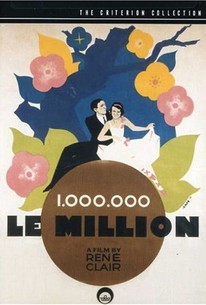 Movie Info
René Lefèvre and Annabella are sheer delights, as is everything else in Le Million, René Clair's bright and winning early sound comedy. Clair has his actors sing their dialogue in a blithe and breezy way and utilizes a succession of surrealistic and Dadaesque touches to chronicle this lighthearted extended chase, concerning an artist racing through the streets of Paris (an amazing studio set constructed by Lazare Meerson) in order to retrieve a winning lottery ticket left in the pocket of a discarded jacket. Many of Clair's comic embellishments (like the dubbed-in sound effects of a football game over a portion of the chase) have been used endlessly in comedies ever since, but in Clair's hands, the old jokes still look fresh and magical. ~ Paul Brenner, Rovi
Critic Reviews for Le Million
All Critics (7) | Fresh (7) | Rotten (0) | DVD (2)
A brilliant lighthearted musical comedy that is one of the early films to be shot in sound. It's directed with panache by René Clair.
An invitation to see the world through the same rose colored tints that Clair does.
Audience Reviews for Le Million
"Le Million" starts with a couple of interlopers curious, not complaining, about the boisterous party being thrown in an apartment building in Paris. Well, that same day did not start out so well for Beatrice(Annabella), a ballerina, who comes across Michel(Rene Lefevre), who she pines for, with Wanda(Vanda Greville) in his arms, and coming to the wrong conclusion since Michel had just painted Wanda's portrait. To be honest, Michel has bigger worries, like owing half of Paris money. By comparison that is nothing compared to Grandpa Tulip(Paul Ollivier) who has half the police department chasing after him before Beatrice helps him out by loaning him Michel's tattered jacket that she was valiantly attempting to mend. And just as Michel's troubles look like they may be finally over, they are only just beginning. "Le Million" is a delightful and funny operetta that includes references to ballet, rugby and an opera about bohemians that mirrors Michel's life. Made at the advent of sound pictures, the movie also harkens back to the golden age of silent comedies with its exquisite early double chase. In fact, the movie is one long chase, with mistaken identities rampant. Pleasantly enough, director Rene Clair shows no signs of having trouble adjusting to the new format, just as a major theme is the failure to communicate. My only serious problem is how long it takes for everybody to key in on the jacket which admittedly might just be a consequence of maybe having seen that same gag many times from more recent films.
A wonderfully funny, charming, imaginative film. Ahead of its time -- even released four years before "A Night at the Opera." Hmm. Loved the goofy use of songs -- back then, cinema hadn't lost its innocence yet. Also loved the irregular angles of the apartment building, and the bit where the soundtrack of an onscreen group scuffle is thrown out and replaced with the ambient roar of a football game.
Eric Broome
Super Reviewer
groundbreaking and absolutely charming screwball musical comedy. loved it
Stella Dallas
Super Reviewer
Le Million Quotes
There are no approved quotes yet for this movie.