Long Weekend
(1979)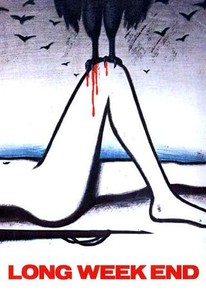 Movie Info
In this mystery a troubled couple goes camping in the forest to relax and work out their differences. Things do not turn out as planned.
Critic Reviews for Long Weekend
Audience Reviews for Long Weekend
Long Weekend is a different type of nature gone wild movie, as it doesn't involve a killer creature, but nature itself, and mixes a heavy dose of psychological horror in the plot as well. With effective directing from Colin Eggleston , this is a well crafted horror tale that is sure to captivate you from the first frame onwards. The film has a simple idea for its plot and it works brilliantly to create the ultimate in shocks for the viewer. The film surrounds a couple who go out for the weekend in the woods to clear their heads of a recent tragedy soon find themselves the target of mother nature due to the fact that they are simply vicious and are constantly fighting. The film moves at a steady pace, and every shot is calculated to induce the fear in you. This is a work that superbly well executed by Eggleston and he delivers something that is tense, memorable and ultimately terrifying. What makes this film truly unique is that you feel that there is a lingering presence around the couple, and it adds to the atmosphere. This is a well acted and directed movie that ranks up there with some of Alfred Hitchcock's most memorable psychological horror tales. In many terms, Long Weekend echoes many of Hitchcock's traits and it makes for a truly engrossing horror experience. With using so little, Eggleston was able to accomplish so much. This is horror filmmaking at its best. The aspect that stands out the most about the film is that the tension and horror isn't happening all at once. Everything unfolds slowly to make you feel even more on edge. Eggleston direction works beautifully and in turn he creates a horror film that is very entertaining and original in terms of ideas. I truly enjoyed Long Weekend and it is among the finest psychological horror films of the 1970's.
A film that surprised me. This was an excellent suspense thriller/horror that kept me on the edge of my seat throughout. Both of the leads are excellent but Mother Nature is the 3rd character and she scared the hell out of me. Of course, everything that happens in the film could be down to chance but it depends how you want to view it. Personally I think the supernatural overtones dominate and it's a great ride watching nature take its revenge.
David Sayers
Super Reviewer
Great movie. A Character driven suspense piece. This is not a horror movie (although its been sold as one), it is neither gory nor does it rely on cheep shocks (it does employ them however)
Ken Stachnik
Super Reviewer
Long Weekend Quotes
There are no approved quotes yet for this movie.