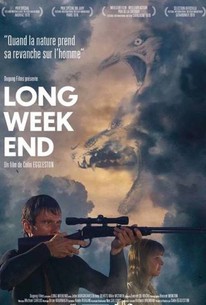 Long Weekend
1978, Drama/Horror, 1h 52m
8 Reviews
1,000+ Ratings
Rate And Review
Movie Info
Peter (John Hargreaves) and Marcia (Briony Behets), a bitter married couple teetering on the edge of divorce, take a camping trip to heal the rift between them. As the weekend progresses, the selfish pair engage in reckless behavior that demonstrates an increasing disrespect for their natural surroundings. When Peter and Marcia become the targets of a series of inexplicable animal attacks, it becomes clear that an angry Mother Nature has come to exact her revenge.
Genre: Drama, Horror

Original Language: English (Australia)

Director: Colin Eggleston

Writer: Everett De Roche

Release Date (Theaters): limited

Release Date (Streaming):

Runtime:
Audience Reviews for Long Weekend
Long Weekend is a different type of nature gone wild movie, as it doesn't involve a killer creature, but nature itself, and mixes a heavy dose of psychological horror in the plot as well. With effective directing from Colin Eggleston , this is a well crafted horror tale that is sure to captivate you from the first frame onwards. The film has a simple idea for its plot and it works brilliantly to create the ultimate in shocks for the viewer. The film surrounds a couple who go out for the weekend in the woods to clear their heads of a recent tragedy soon find themselves the target of mother nature due to the fact that they are simply vicious and are constantly fighting. The film moves at a steady pace, and every shot is calculated to induce the fear in you. This is a work that superbly well executed by Eggleston and he delivers something that is tense, memorable and ultimately terrifying. What makes this film truly unique is that you feel that there is a lingering presence around the couple, and it adds to the atmosphere. This is a well acted and directed movie that ranks up there with some of Alfred Hitchcock's most memorable psychological horror tales. In many terms, Long Weekend echoes many of Hitchcock's traits and it makes for a truly engrossing horror experience. With using so little, Eggleston was able to accomplish so much. This is horror filmmaking at its best. The aspect that stands out the most about the film is that the tension and horror isn't happening all at once. Everything unfolds slowly to make you feel even more on edge. Eggleston direction works beautifully and in turn he creates a horror film that is very entertaining and original in terms of ideas. I truly enjoyed Long Weekend and it is among the finest psychological horror films of the 1970's.

Nature's a bitch, and then you die! No no. You're a bitch, and then you die! An eerie and well build Nature's revenge flick, that almost shoots itself in the foot. I love a good character build, but I was close to not giving a damn about these sons of bitches. You go nature!

A film that surprised me. This was an excellent suspense thriller/horror that kept me on the edge of my seat throughout. Both of the leads are excellent but Mother Nature is the 3rd character and she scared the hell out of me. Of course, everything that happens in the film could be down to chance but it depends how you want to view it. Personally I think the supernatural overtones dominate and it's a great ride watching nature take its revenge.

MIFF '08: And so begins my favourite time of year - MIFF month! To kick off the festival, I saw Long Weekend - an Australian thriller from the 70s about nature gone berserk. Think 'The Birds' or maybe even 'Picnic at Hanging Rock'. What was cool about this movie was that it was about two people who have a total disregard for nature...and so, nature lashes back with brutal vengeance! Delicious! It wasn't scary, but it was definitely suspenseful - particularly when Peter was left alone for the last twenty minutes of the film. If you can get past some cheesy acting and dialogue, you'll like Long Weekend because the characters get their comeuppance, and in doing so, the film delivers a message along with its terror.
See Details