Madame Satã
(2002)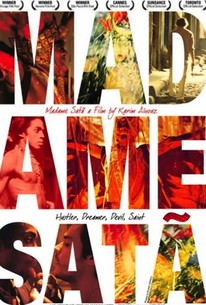 Movie Info
A story inspired by the life of one of the most remarkable figures in Brazilian popular culture, João Francisco dos Santos (1900-1976). In turn, bandit, transvestite, street fighter, brothel cook, convict and father to seven adopted children, dos Santos--better known as "Madame Satã"--was also a notorious gay performer who pushed social boundaries in a volatile time. The story begins in 1932, in Rio de Janeiro's bohemian Lapa district, when João Francisco is about to achieve his dream: becoming a stage star. In the sordid yet lively world of Lapa--populated by pimps, prostitutes and other denizens of Rio's underworld--João battles the streets and presides over a surrogate family that includes the charming prostitute Laurita, and her baby daughter whom everyone dotes on; the flamboyant hustler Taboo; João's teenage lover, Renatinho; and Amador, the owner of the Blue Danube club which is their second home. It is at the Blue Danube that street tough João begins to sing, and the mythic drag artiste Madam Satã is born.
Critic Reviews for Madame Satã
Audience Reviews for Madame Satã
½
Lázaro Ramos delivers a ferocious performance in this absorbing character study that dives into the world of an outcast to explore matters like poverty, race, gender and sex, even though it feels a bit incomplete and superficial as it doesn't go deep enough into its character as it should.
Carlos Magalhães
Super Reviewer
Captivated? Not really. Didn't sink in with me too well.
John Ballantine
Super Reviewer
½
Very gritty film that takes place in the 1930's about João Francisco dos Santos, the legendary Brazilian cross gender dresser, pimp, loving father, outlaw and local hero who became Rio De Janeiro's Queen Of Carnaval in the 40's until his death in the 70's. The gay sex is very raw as is the lifestyle in the Lapa district of Rio. João Francisco dos Santos lived from 1900 to 1976, adopted about a dozen children and spent some 27 years of his life in prison. Most of the story here is Joao's struggle to overcome the cruelty that comes his way because he is black, poor and gay; endlessly fighting, defending himself and getting into trouble with the law because he refuses to be treated like a second-class citizen.
El Hombre Invisible
Super Reviewer
Madame Satã Quotes
There are no approved quotes yet for this movie.