Meat Market 2
(2001)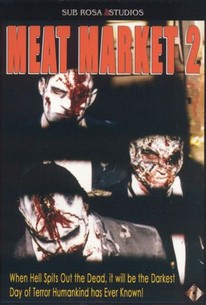 AUDIENCE SCORE
Critic Consensus: No consensus yet.
Movie Info
With the world held in the bloody grip of the zombie apocalypse, a few remaining survivors stumble into the fortified compound of a certified madman in this follow-up to director Brian Clement's straight-to-video gut-muncher. Having survived the harrowing events of the initial zombie invasion, Argenta, Nemesis, and a handful of others find momentary safety with motivational speaker Bill Wilhelm and his loyal band of followers. Their reprieve is short-lived, however, when Argenta discovers a horrifying secret deep within Wilhelm's labyrinthine compound.
Critic Reviews for Meat Market 2
There are no critic reviews yet for Meat Market 2. Keep checking Rotten Tomatoes for updates!
Audience Reviews for Meat Market 2
Super Z movie so of course WTF abounds here: a vampire with a bowcaster, public domain Halloween music, loops of generic zombie/horror moans, pointless shower scenes featuring unsexy nudity, acting beyond amateurishly atrocious, a necrophiliac character, sound worse than thought possible, names of famous zombie directors/genre contributors being dropped randomly, unnecessary cannibalism (by the still human population), inexplicable sex scenes, thirty different blood colors and none of them close to realistic, and a zombie/human massacre for the ending.

Some of the makeup is pretty damn cool, but for every decent zed head, there are ten more that even a kid would be embarrassed to be on their first Halloween doing their own makeup.

The coolest part of the movie is the settings used in the first part of the movie. It's almost sad how easy it is to find apocalyptic settings in the every day real world, and this production manages a few that are beyond awesome.

The story concept is not so bad: in the undead future, renegade fundamentalist militia groups seek to start a new world of exclusively white straight people. They also experiment on zombies and humans and eat flesh. Most funny is a feast scene where someone picks a penis entree and dips it in wine for added flavour.

If you like z movies and you HAVE to like z movies to find anything worthwhile here, this may have entertaining parts if you're beyond intoxicated and out of decent z movies to watch. Laughably bad.
_kelly .King
Super Reviewer
Meat Market 2 Quotes
There are no approved quotes yet for this movie.