Metro Manila
(2014)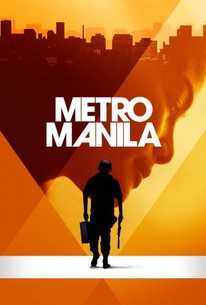 TOMATOMETER
AUDIENCE SCORE
Critic Consensus: Infusing thriller tropes with a searing glimpse of modern-day corruption, Metro Manila is just as gripping as any action blockbuster -- and twice as thought-provoking.
Movie Info
Ellis, whose previous films include the award-winning CASHBACK and THE BROKEN, travels to the Philippines to tell the story of Oscar Ramirez, a down-on-his-luck farmer who flees the countryside with his family to look for a brighter future in the bustling, overwhelming metropolis of Manila. Oscar believes he has caught a break when he is offered steady work for an armored truck company and his kind and gregarious partner takes him under his wing. But when his seemingly prosperous gig unravels, Oscar realizes the inherent dangers of his new job and gets caught in a complex and perilous scheme of double-dealing. Faced with no other options, Oscar has to risk everything to protect what he cares about most - his family. (C) Oscilloscope
News & Interviews for Metro Manila
Critic Reviews for Metro Manila
Audience Reviews for Metro Manila
Sean Ellis must have fallen so deeply in love with Metro Manila to depict it the way he did in this film. It captured the harsh reality of the great big city, and it did so with a story that stirs a whirlwind of emotions. Everybody did a pretty good job. This film surely isn't easy to forget.
Maymay Asahan
Super Reviewer
This is a pretty depressing movie all things considered. While, obviously, parts of the film are exaggerated for dramatic effect, there's something about this film that makes you truly think about what extreme poverty would force someone to do. It would take a seemingly normal man and push him to such an extreme, for example, which is a story told in the film, of a man hijacking a plane and taking the passengers' money before jumping out of it with a homemade parachute, just because his family business was destroyed. I'm not saying that the actions are justified, but you can understand the desperation some of these people must be going through in order to do this, just so they can afford a better life for their families. The fact of the matter is that there's extreme poverty in the Philippines, that's just a fact, so this one would definitely hit closer to home, particularly to someone who finds themselves in this situation as we speak. The film sees Oscar and his family just struggling constantly to get by. Being scammed out of their entire savings the moment they arrive in Manila, Oscar's wife being forced into a degrading job as a sex worker, being kicked out of their apartment, being blackmailed by a co-worker, etc. This family is going through an incredibly difficult time in their lives that's for damn sure. You can empathize with them, because you really do want them to make a better life for themselves and their children. They're not muppets, they're still fully-formed characters and it's not like they're thrown into this situation without any buildup. You know who they are, where they come from, and what they do prior to being forced to move to Manila for new opportunities. You don't get to know them very well, but you know they're honest, hard-working people just trying to do what's right for their family. So I think the film does a great job at character development, particularly after both Oscar and his wife find jobs. Seeing how they struggle to adapt to different environments and what's expected of them in any given situation. The acting is more than strong, both leads, Jake Macapagal and Althea Vega, are incredibly sympathetic without being pathetic, which is a fine line to cross, particularly with these types of characters. They just do a great job at selling the desperation of what they have to do. Of course Oscar's wife has it worse at first, since her job is so degrading, but Oscar's job has him put his life in danger pretty much any time he goes out. There's something about Jake that's incredibly naive, as he doesn't notice that Ong is up to something until it's too late to go back, but he never comes across as an idiot. He's just a person who comes from a different part of Manila and is simply not used to dishonesty, even if it's all he's had to go through in Manila since arriving there. That's also a fine line to walk as an actor, sometimes these naive types can come across as idiots if the writing and the acting don't do the character justice, but not in this film. The film also mixes in corruption, so you get a complete package really, but it's not like real true corruptions, where you detest those involved in it. I just feel that the corruption presented here, again, goes back to one of the themes of the film, and that is just simply doing better for your family. Trying to improve their economic standing. Particularly when you see criminals enjoying lavish lifestyles while a hardworking man struggles to make ends meet. This is Oscar's case, not necessarily Ong's, who was definitely better off than Oscar. The film definitely has a very thought-provoking and interesting story. I think some people might believe it's too slow, but I think the experience is incredibly rewarding. The film is just beautifully shot. This comes across as a cliche, but Manila is as much a character as any of the actors on screen. You get to see the highest of highs and the lowest of lows in stunning detail. You feel like you're right there along with Oscar. The cinematography is just outstanding in this film. If you've followed this review, or if you've even watched the film, then you know that there was only one way for this to end. Take that as you want. I found the ending itself to be incredible, but at the same time one of the saddest endings I've ever seen. Perhaps if taken out of context it might not come across as such, but given everything that Oscar went through for his family, you wish that things would've turned out better for all of them. And the letter he wrote to his wife, that's read in a voice over by Oscar during the climax, is like sticking the dagger and turning it sideways. Fairly tragic, but never melodramatic. Oscar did achieve his mission and give his family a better chance to have a good life, so the ending is incredibly bittersweet. If Today's Special would leave a smile on your face, this one would do the opposite. Not like you'll be shedding tears for days on end, but you'll be emotionally drained after everything you've seen. Even with that, however, this film is absolutely excellent and I would recommend it wholeheartedly.
Jesse Ortega
Super Reviewer
Metro Manila Quotes
There are no approved quotes yet for this movie.