Naked Killer (Chik loh go yeung)
(1995)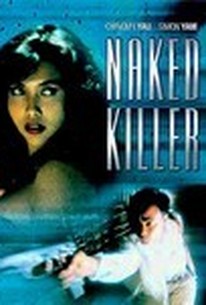 Movie Info
Lesbian assassins at war provide the focus for this outrageous Hong Kong martial arts film that is already becoming a cult classic. Tinam is the cop on the case searching for the person who keeps killing Hong Kong men and cutting off their genitals. Tinam is on the edge of a breakdown after he accidently shot his brother three months before. When nervous, the cop throws up. Tinam meets Kitty, an obsessive woman, in a unisex hair salon. Unfortunately for Tinam, Kitty takes a shine to him. Kitty, after shooting up a gangster's office to avenge her father's death, is taken to the home of hit-woman Sister Cindy, a charmer who uses rapists for martial arts practice dummies. Sister Cindy becomes Kitty's mentor. It is soon discovered the killer is the lesbian Princess, Cindy's former student. Princess is contracted to kill her teacher and she succeeds. The distraught Kitty, forgoes her pursuit of Tinam, and begins her revenge. ~ Sandra Brennan, Rovi
Critic Reviews for Naked Killer (Chik loh go yeung)
Audience Reviews for Naked Killer (Chik loh go yeung)
A bit cheesy, a bit erotic, and a bit unbelivable. This picture reminded me of another film "Vertigo". "Naked Killer" is entertaining and photographed beautifully.
½
That wonderful coward Simon Yam hams it up again in this amazing Cat III film.  This time, if he so much as sees a gun, he pukes.  Awesome.?Pretty much everything there is to love about Cat III films is in here.  Inappropriate humour, scantily clad ladies, bizarre sexual situations, shocking violence and nihilism.  Oh, and blue lighting.  Lots of blue lighting.?A must see.
Christopher Brown
Super Reviewer
A young woman's botched attempt to kill the gangster who murdered her father leads to her being taken in by the leader of a ring of female assassins. The obvious selling point to this HK action movie upon its release was the promise of gratuitous nudity by the stunning Chingmy Yau and company, but the fact is the whole softcore porn element is really rather tame; the story is very exploitative (beautiful female assassins in various states of undress brutally dispatching evil, lecherous men) but it's actually rather technically accomplished for an exploitation flick. The action, particularly the Woo-style gun battles are well choreographed, it's all photographed quite attractively and there are some very nicely framed shots of pretty set design and sexy outfits with some nice use of colour. The plot is nonsense of course, but not much more ridiculous than the average action flick and the story has quite a romantic core at its centre. More live action manga than exploitation, it's a visually pleasing HK action film with plenty of eye candy that has dated surprisingly well.
Naked Killer (Chik loh go yeung) Quotes
There are no approved quotes yet for this movie.