Night After Night
(1932)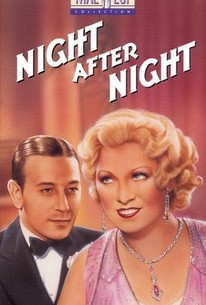 AUDIENCE SCORE
Critic Consensus: No consensus yet.
Movie Info
In one of his first starring roles, George Raft plays Joe Anton, a tough but basically decent speakeasy owner who falls in love with Park Avenue socialite Miss Healy (Constance Cummings). Hoping to come up to the girl's social level, Joe starts taking lessons in speech and behavior from haughty dowager Mrs. Jellyman (Alison Skipworth). What he doesn't know is that Miss Healy pays attention to him only because he's living in the posh apartment where her family had resided before the Stock Market crash. Even so, the girl genuine falls in love with Joe when it appears as though he's about to desert her in favor of his ex-flame Iris Dawn (Wynne Gibson). A dreary retread of stock movie-drama themes, Night After Night would be utterly forgotten today were it not for the presence of Mae West, making her film debut. A scant few seconds after her first appearance, the generously bejeweled West is accosted by a hatcheck girl who coos "Goodness, what lovely diamonds." Swivelling those famous hips, La West replies expansively "Goodness had nothing to do with it, dearie." Commenting years later on Night After Night, George Raft, who suggested that Mae West be cast in the film, ruefully recalled "She stole everything but the cameras."
Critic Reviews for Night After Night
All Critics (3) | Fresh (2) | Rotten (1)
West's brassy turn, which stands in sharp contrast to her comparatively bland costars, ensures that the film suffers whenever she's offscreen...
Mae West's few scenes are what everyone remembers because they're what turn a stylish, but otherwise indifferent movie into something special -- something worth remembering.
Audience Reviews for Night After Night
except the moments mae west shows up, the rest of the movie is a quite tepid. west steps into the picture to lift up your spirit.
Veronique Kwak
Super Reviewer
Night After Night Quotes
There are no approved quotes yet for this movie.