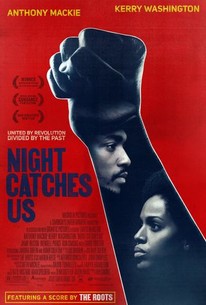 Night Catches Us
2010, Drama, 1h 30m
57 Reviews
1,000+ Ratings
What to know
critics consensus
A bold, original debut, Night Catches Us personalizes a tumultuous period in American history thanks to strong performances from Anthony Mackie and Kerry Washington. Read critic reviews
You might also like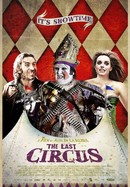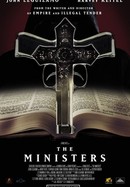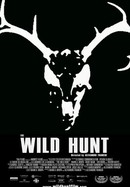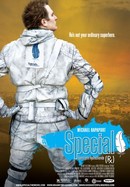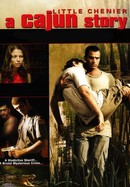 Where to watch
Rent/buy from $2.99
Rent/buy from $2.99
Rent/buy from $3.99
Rate And Review
Movie Info
When ex-Black Panther Marcus (Anthony Mackie) returns to Philadelphia for the funeral of his father, he knows it's not going to be an easy visit. Many of his old radical friends, including "DoRight" Miller (Jamie Hector), still believe that Marcus was responsible for the death of a Panther leader right before he took off. While trying to convince everyone he's not a snitch, Marcus rekindles his relationship with Patricia (Kerry Washington), the widow of the slain leader.
Audience Reviews for Night Catches Us
It is Philadelphia in 1976. Marcus(Anthony Mackie), a former Black Panther, returns home for the first time in four years for his father's funeral. His brother Bostic(Tariq Trotter) has been left the family home and has already found a buyer while agreeing to let his brother stay for a week to repair the damage done by the contractors. Marcus may not have that much time considering that DoRight(Jamie Hector) considers him a snitch. But Patty(Kerry Washington), an old friend and community lawyer, is happy to see him, while she has to bail out her cousin Jimmy(Amari Cheatom) from jail. "Night Catches Us" is a modest little drama, that while not striking out any new territory, still manages to tell an engaging story with the help of a good cast. Of special note, is how history repeats itself because of how it has been distorted in the first place. Marcus returns to a neighborhood that has hardly changed from the one he recalls where the police unceremoniously harass blacks, no matter the reason. That's why the Black Panthers came to prominence in the first place, as a self-defense and community organization meant to convey a force of strength, not violence, against oppressors.

Set in Philadelphia in 1976, this is a nicely low-key drama about a former Black Panther named Marcus who returns to his old neighborhood after years of absence to attend his father's funeral. His return is not looked upon fondly, primarily because it is widely believed he sold out a former comrade in arms, leading to pretty much everyone in the neighborhood hating him. Instead of leaving after the funeral, Marcus tries to reconcile the past, primarily by reconnecting with the only person who treats him warmly- he widow of the man he is suspected of snitching on. The film is, more than anything, a human drama about life choices and looking at the impact of the Black Power movement in broad strokes. When I first heard about this movie, I was under the impression that it was focused on the Movement and the Panthers, and that's what got me interested. That it is instead a more reflective look at that era is somewhat disappointing, but still interesting. Considering that there's really not a lot of cinema concerning Black Power, I guess this will do for the time being. As a debut feature, this is rather competent. I think more justice could have been done to the subject, especially since this film skirts around the issues broadly, but it does have ambitions and isn't completely hollow, so that's good. It's not the acting showcase it could have been either, but the performances are still pretty decent, even if the base material is just a variation on stuff that we've seen many times before. It's well shot, and gives a good glimpse into 70s Philly, so I think that those who dig movies that portray specific places at specific times will probably be happy here. As a nice treat, we also get a decent score from alternative hip-hop giants The Roots. The film is flawed and not what it should be (in my mind), but it is entertaining, decently made, and does provide some substance to chew on, so give it a watch.

A great debut. One of the best films of the year. Anthony Mackie and Kerry Washington both deliver great performances, and the film has a great soundtrack by the Roots, aswell as a supporting performance by Tariq Trotter himself. Jamie Hector and Wendell Pierce of "The Wire" make up the rest of the supporting cast, and the rest are all newcomers.