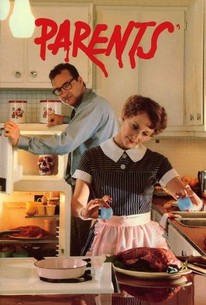 Parents
1989, Mystery & thriller/Comedy, 1h 22m
15 Reviews
2,500+ Ratings
Where to watch
Rent/buy
Rent/buy
Rent/buy
Rate And Review
Movie Info
Ten-year-old Michael Laemle (Bryan Madorsky) senses that something is not quite right with his family. Sure, his mother, Lily (Mary Beth Hurt), is the perfect 1950s housewife, and they have a comfortable life in the suburbs, where his dad, Nick (Randy Quaid), works at a mortuary. But what's with the enormous cuts of meat that his father brings home every night? What, or whom, do they come from? Michael takes his concerns to a school counselor (Sandy Dennis) who decides to come over for dinner.
Rating: R

Genre: Mystery & thriller, Comedy

Original Language: English

Director: Bob Balaban

Producer: Bonnie Palef

Release Date (Theaters): limited

Release Date (Streaming):

Box Office (Gross USA): $464.2K

Runtime:

Distributor: Vestron Pictures

Sound Mix: Surround
Audience Reviews for Parents
"There's A New Name For Terror..." Parents isn't an awful movie by any stretch. It's actually a pretty well made movie if I look at it from just that standpoint. If I look at it from the entertainment and enjoyment aspects of it, it didn't quite hold up. I didn't hate it, but it certainly didn't win me over in the end. It had a fairly interesting concept that kept the film going, but the way the events unfold is obvious, and the end result is less than satisfying. I can say that it was a good try because this could have been terrible, but it wasn't.  Parents centers around a family living in the suburbs during the 1950's. The story is presented in the  way Fido would be. It's a dark comedy, horror movie mix. There's a ten year old boy at the center of the film who is starting to question his parents. There's obviously something off with them and he begins to get bigger and bigger evidence to this effect. He also won't eat his meat, which disappoints his parents because they are huge meat lovers. I was constantly waiting for a Pink Floyd reference about eating your meat, but unfortunately none came.  I will say that the direction by Bob Balaban makes this movie more watchable then I thought it could be. He does a good job balancing the social satire with the creepiness. Also the cast is rather interesting as well. Randy Quaid gives the best performance I've ever seen from him, and I also really enjoyed Mary Beth Hurt's performance as the loving mother as well.  In the end though, all this movie does is present its story in an interesting way. By the end, I was less then enamored with it. Sure it has some good stuff going on, but films like these need a little more to push them over the top and that little bit more was missing here. Plus when you label yourself as a Dark Comedy, then you have to deliver some laughs, and Parents just doesn't. The darkness was certainly there, but the comedy was no where to be seen. It also is labeled as a horror film. Well, it wasn't scary either. So it failed in both respects. Still I can't say not to watch the movie, because I didn't hate it all and I could see people easily being able to enjoy this one.

It's not so bad consider it's a low budget satire film about the 50s suburbia, where a family holds a dark secret. I love the camera angles and the different scenes. It was an effective black comedy, however a bit too dark at times. The campiness and cliche really helped with bringing out the comic elements.

Quirky little number this, first time I have seen it and I quite liked it :) Came across as a 'Little Shop of Horror's' black gallows humour type of film to me with a slight sprinkle of tension. Its an odd one for sure, Randy Quaid is perfect as 'Dad' with that eerie joker-ish smile of his, Mary Beth Hurt accompanies Quaid well as 'Mum' to make a great kooky couple. The various scenes of eating dinner with close ups of the meat really does make you uncomfortable and your mind swings from judgement to judgement on wether little 'Michael Laemle's' parnets really are serving up human flesh for tea hehe. Personally I could never really make up my mind if the whole thing was a dream or just a little boys crazy imagination, the film plays out quite surreal which keeps you guessing. Being set in the 50's really adds that kind of bizarre yet fun twist to it, almost impossible to think such things could happen in a perfect all American home in the happy 50's. The cute sitcom like soundtrack adds zing, makes the whole thing out to be almost silly, light hearted or even a kids film, truth be told the film gets darker and darker as it goes on yet your never really scared, more intrigued and curious. A real cult oddity which works due to the brilliant performances of all the cast members.

Parents is a very interesting idea for a horror film. The concept behind this film is very cool. A kid suspects his Parents to be cannibals after he notices big cuts of beef every night for supper on the table. Parents is a blend of Black Comedy and Horror, but after watching this I would lean more towards horror. There are a few funny parts, but it's more horrifying than anything else. What I loved about the film was that it had the look of a family sitcom and the soundtrack was practically a sitcom theme. The film looked great, and was well done. Randy Quaid was solid in his performance and so was Mary Beth Hurt. After viewing Parents, I thought it was a very underrated gem. The thing that I love the most about this film is the concept behind the plot. I thought that idea of cannibalistic parents was a fairly good idea for film. After watching it, I realized how much this film is underrated. Sure, I can understand why the film may not appeal to everyone due to it's plot. But for the horror diehard, Parents is a terrific horror film that delivers good horror and a good story. Parents shouldn't be dismissed and will appeal to horror fans who enjoy something different. I thoroughly enjoyed this film, and I don't see why this film has gotten the flack it has received, a thoroughly engaging and morbidly fun horror film.
See Details