Rabid Grannies
(1989)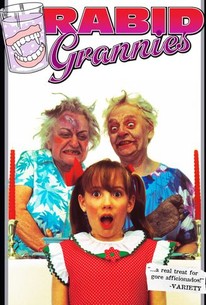 AUDIENCE SCORE
Critic Consensus: No consensus yet.
Movie Info
Seeking revenge for being dropped from the will, a young devil worshiper sends his elderly aunts a special birthday gift that magically transforms them into rabid cannibals. This low-budget horror-comedy centers on the gory nightmare that follows, as the sisters' birthday party turns into a brutal bloodbath.
Critic Reviews for Rabid Grannies
Audience Reviews for Rabid Grannies
Aside from the gratuitous amount of gore and the eye dazzling special effects, there is really nothing special about this little Belgian gem. Children died, that was quite shocking consider how children had immunity at the time in horror films. There were some interesting deaths though, given its low budget, it is not too bad of a film.
Sylvester Kuo
Super Reviewer
½
Just because this film bears a typically Troma-like title, and features the Troma logo on the packaging, don't make the mistake of thinking it is a Troma production?because it isn't. It is, in fact, a low-budget Belgian film that was simply picked up for distribution by the studio, and, as far as I am concerned, it is much more enjoyable than the majority of Lloyd Kaufman's own B-movie output. In this delightfully silly and very gory romp, a group of greedy relatives gather together at the mansion of their two elderly aunts, in order to attend their birthday celebrations (and hopefully worm their way into their aunts' wills). However, when the old women open a surprise birthday present (sent by the black sheep of the family?a practitioner of the black arts), they become possessed, transform into vicious, drooling, bloodthirsty monsters, and proceed to tear their party guests limb from limb. If you're a fan of visceral OTT slapstick horror?particularly Sam Raimi's Evil Dead trilogy (which this film is obviously heavily influenced by) or the early work of Peter Jackson (whose similarly daft Bad Taste came out the same year)?then Rabid Grannies should be right up your alley. Director Emmanuel Kervyn spends the first thirty minutes introducing us to his raft of absurdly unlikeable characters (none of whom really deserve to survive 'til the end credits), and the next sixty dismembering them in as many inventive and silly ways as possible. It might not be Oscar winning material, but it's a whole heap of fun! Considering the limited budget, the juicy effects on display are pretty damn good, and the film sure doesn't hold back with the nastiness: one man has his limbs hacked off, before being impaled (between the legs) on a pike; a fat guy gets stuck trying to escape, and has his ass eaten; and even a little girl gets reduced to spare parts by the demonic old dears!
Cassandra Maples
Super Reviewer
Extremely silly and hilariously bad euro trash.
Pierluigi Puccini
Super Reviewer
Rabid Grannies Quotes
There are no approved quotes yet for this movie.