Silmido
(2003)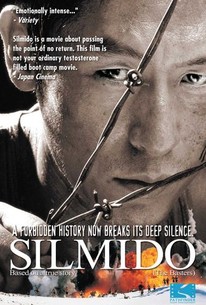 AUDIENCE SCORE
Critic Consensus: No consensus yet.
Movie Info
When North Korean soldiers attempt to assassinate the president of South Korea, the latter government responds by dispatching its own team of trained killers, only to leave them hung out to dry as ice cold tensions between the two nations begin to thaw. The year was 1968. An attempt on their president's life narrowly averted, the South Korean government responds to the threat by assembling a team of expendable civilians, and training them to become cold-blooded killers. Their target: North Korean leader Kim Il-Sung. But just as the soldiers prepare to carry out their daring mission, a chance for reconciliation presents itself to the leaders of the two feuding nations. Now, with their operatives still active and in the field, the South Korean government denies any knowledge of the mission, leaving the trained assassins to fend for themselves behind enemy lines.
Critic Reviews for Silmido
All Critics (1) | Fresh (1) | Rotten (0)
"Silmido" is actually an action movie, and moreover, a blockbuster. In that fashion, the biggest protagonist is the action, with most of the film's elements revolving around it.
Audience Reviews for Silmido
Silmido is a great action war film in the style of Full Metal Jacket meets the Dirty Dozen. Based on a true event in South Korea, the narrative is equally engaging and compelling. Its cast of many give this film a very badass persona and fasinating development. It also feels it could dwarf any Michael Bay or Tony Scott epic actioner any day cause if its craftmanship that give it a distictive hollywood action flavour. Just get all those fake Auteurs to look at this and then they'll realise Story and drama are more important than action specticle. A Highly recomended action film!
Luke Eberhardt
Super Reviewer
½
Korea's answer to The Dirty Dozen. Intense, violent and politically stylized.
Randy Tippy
Super Reviewer
½
Based on a very infamous historical event, Silmido is a big-budget energetic action flick. And yet, despise said approach to such spicy material, it works. Maybe because for such a hard-hitting piece like this, an "art/house" approach would do nothing but sedate the spirit of the story. A mixed bunch of criminals and civilians are send to an island to suffer a brutal trainning in order to kill the North Korean president of that time. This fueled by a failed attempt from the North to do the same with SK president, which made the whole nation go out to the streets and burn pictures of the NK president and all that jazz. But the whole operation is shut down after the tension cools down, and now the goverment want's to put to sleep the same blood-thirsty beast they created. At that point the film takes some predictable, and also some not-so-predictable twists. Yet it manages to remain quite beliavable for the most part. The film can't escape some cheap patriotic moments, yet everything makes perfect sense in the context of the story. A group of men who have nothing else to live for will grab any lifesaver they can to stay a float. The irony of the nationalistic brain-wash these men get impacts to the reality of a country that couldn't care less about using human guinea pigs to satisfy the ego of said country. The film also works thanks to the solid cast. So, Silmido might not be the most objective history lesson one could get, but it's certainly one that is not easy to ignore. Any nation must be careful for what they wish, because it can always happen, in one way or another. Usually, in the nastiest way possible.
Tsubaki Sanjuro
Super Reviewer
Silmido Quotes
There are no approved quotes yet for this movie.