Ta Ra Rum Pum
(2007)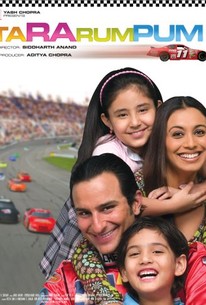 Movie Info
"Ta Ra Rum Pum" is a story of one man, his family and how they overcome obstacles that life puts in their way. Rajveer Singh is a pit-crew worker in a racing team with a passion for driving. He gets discovered by the team manager, Harry. The same day he accidentally meets a music student, Radhika, who he falls for instantly. While his racing career takes off, his love affair also blossoms, and a few months later, he is both a happily married man and one of the country's best racers. But, as a result of a racing accident, RV is hospitalized for a few months. When he tries to make a comeback, he realizes that he has been mentally scarred by the accident and has lost his edge. His life takes a turn for the worse and after a string of failures, he is forced to auction his house and move with his family to a run-down Bronx-style neighborhood. The family struggles to survive a life they are not used to, using a mixture of fantasy and cheerfulness to pull through in the face of adversity. But, an incident forces RV to reclaim the life that was taken away from him. Can he, once again and perhaps for a last time, face down his inner demons on the race track?
Critic Reviews for Ta Ra Rum Pum
Audience Reviews for Ta Ra Rum Pum
Here is an exciting movie that follows one man and his dream of becoming successful and living a good life. Rajveer is late for work when he meets a taxi cab driver, and convinces him to let him drive. Radhika, an NYU music student, also gets into the taxi cab as Harry and Rajveer are about to drive off. They race through the city, and it is there that Harry discovers a prospect in Rajveer, and introduces him to his connections. Instantly, Rajveer becomes a tire changer in a stock car team, and this is the first step in his success. Rajveer becomes RV the club?s number one stock car driver. At a party, he meets up with Radhika and the two fall in love. They marry, and begin a life together having just about everything: a great home, beautiful children, and their love for each other. Until an accident occurs on the race tracks, RV and Radhika?s beautiful life is shattered. Soon after, things start to fall apart and everything changes. They are out of their beautiful home, and RV is replaced as the club?s top stock car driver. The two pick up, and try to place their lives back on track while trying to keep their small family together. Saif Ali Khan and Rani Mukherjee stars. Definitely worthy!
Ta Ra Rum Pum Quotes
There are no approved quotes yet for this movie.