The Four-Faced Liar
(2010)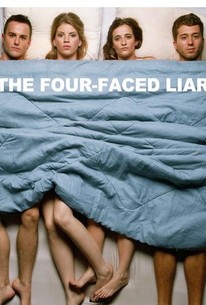 AUDIENCE SCORE
Critic Consensus: No consensus yet.
Movie Info
A woman in love falls for someone she never expected to care for in this independent romantic comedy-drama. Greg (Daniel Carlisle) and Molly (Emily Peck) are a twenty-something couple who've moved to New York and seem a bit in awe of the excitement of the big city. Greg and Molly strike up a friendship with Trip (Todd Kubrak) and Chloe (Liz Osborn), neighbors whose relationship is more volatile than their own. Trip and Chloe are sharing an apartment with Bridget (Marja-Lewis Ryan), an attractive woman who is an out-of-the-closet lesbian and makes little secret of the fact she's interested in Molly. Molly hasn't had any experience with other women, but she finds Bridget funny and interesting and the two become friends. However, with time their friendship grows into something more intimate, and Greg is torn between trusting the woman he intends to marry and his suspicion that Molly is having an affair with someone else. The Four Faced Liar was the first feature film from actor turned director Jacob Chase.
Critic Reviews for The Four-Faced Liar
There are no critic reviews yet for The Four-Faced Liar. Keep checking Rotten Tomatoes for updates!
Audience Reviews for The Four-Faced Liar
½
An engaging, non-traditional, relationship film that explores what people want in a partner and how expectations can get in the way of what the heart truly wants. The film opens with two couples taking their relationship to the next level and everything looks to be oh so normal and predictable. But a fifth-wheel and series of plot developments soon derail things and the film then takes off in an unexpected direction. What makes it all work, is the natural rhythm and flow of the dialog and the action, a rare accomplishment for a first-time screenwriter. This viewer quickly found himself caring about the characters, especially the two who turned out to be central to the film, and somehow wanted all of it to work out so that everyone could end up happy. But, as in life, that isn't always possible. Emily Peck was radiantly beautiful as Molly, the one who had the most to lose and faced the biggest choice. It helped that she was so good looking as well as talented. The viewer just wanted to see more of her and just wanted her to be happy. Marja-Lewis Ryan, the aforementioned writer, had the meatiest role and carried it off well. Her vulnerability was almost painful to watch at times. The other main characters handled their end more than adequately. The simple, folksy soundtrack meshed perfectly and the camera work was superb. An altogether entertaining film.
Mark Abell
Super Reviewer
Nice enough little story for a low budget film Nothing new, but good unknown cast make this likeable. Romantic comedy with a lot of angst and a lesbian twist.
Nicki Marie
Super Reviewer
The Four-Faced Liar Quotes
There are no approved quotes yet for this movie.