The Jaundiced Eye
(2000)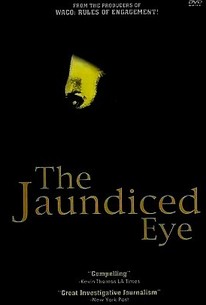 Movie Info
From the production team of the Academy Award-nominated Waco: The Rules of Engagement (1997) comes this harrowing account of two men wrongly accused of sexual molestation. Stephen Matthews fathered a child with his girlfriend before coming out of the closet. For a while, they enjoyed an amiable relationship, until his ex-girlfriend married an ultra-conservative man who took a dim view of Stephen's lifestyle. Tension rises when Stephen notices that his child has a black eye and suspects child abuse; the child's stepfather admits to believing in firm discipline in family matters. Soon after Stephen broaches the subject, he and his father Melvin find themselves accused of sexually torturing the boy. Not long after, they begin receiving death threats, and business at Melvin's bait shop appreciably drops. Sensational reports in the local media only fuel the growing hysteria in their rural Michigan town. The Jaundiced Eye is a piercing look at how hysteria can run justice afoul and how hate and delusion can drastically warp the life of a child and those around him.
Critic Reviews for The Jaundiced Eye
Audience Reviews for The Jaundiced Eye
The Jaundiced Eye is hard to watch, primarily because of how graphic alleged sex acts against a child turn out to be. However, that is one of the doc's strong points: the father and grandfather accused to molesting a five-year-old are not scared of putting their truth on the record. The same can't be said of the boy's mother or her new husband: she stays in the shadows and he is only heard through recorded testimony. I wonder why they don't want to stand in their truth. Now, we will never know exactly what happened to the boy, but the information which shows the accused are innocent begins to stack up methodically, through interviews with expert lawyers, doctors and counselors. The film has a definite point of view, but also makes sure to hear from those with a dissenting point of view. Lower production values be damned: this is a quality doc that tells a harrowing story, even if some points are not followed up on.
Jason Vargo
Super Reviewer
A very difficult documentary to find but nonetheless, a rewarding one that calls into question the concept of justice.
John Ballantine
Super Reviewer
The Jaundiced Eye Quotes
There are no approved quotes yet for this movie.