The Playhouse
(1921)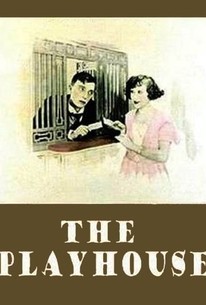 AUDIENCE SCORE
Critic Consensus: No consensus yet.
Movie Info
This two-reeler features the famous theater sequence in which Buster Keaton plays every role, from the stage actors to the orchestra and audience, appearing in the same frame two, three -- and in one scene, nine -- times. This was amazing technical wizardry in a day when special effects really were special. But there's more to The Playhouse than this one segment. The film bounces from dream to reality, from optical illusion to confusion, all with a playhouse as backdrop, and the various theater skits are a prime example of Keaton's infinite comic variety. In one scene he disguises himself as a monkey so effectively that it's easy to forget he's really human. "This fellow Keaton seems to be the whole show," an audience member remarks in the all-Keaton sequence. In spite of the co-direction credit by the highly capable Eddie Cline, that statement's pretty much correct.
Critic Reviews for The Playhouse
There are no critic reviews yet for The Playhouse. Keep checking Rotten Tomatoes for updates!
Audience Reviews for The Playhouse
With all the charm and talent of Buster Keaton, it was an accident that "The Playhouse" came into fruition. Buster had broken his ankle and needed a "less strenuous film" to shoot and so even though he dances and does other physically demanding stunts he filmed "The Play House". The film showcases much more of his camera technicalities in the film portraying himself as the entire orchestra, performers, stagehands and even the audience (Both males and females) and is hilarious looking! The film is a riot and just the look on Buster's face throughout his various characters is enough to denounce that he didn't show any emotions on his face. I laughed throughout the entire film and it's interesting to note that even though the film shows Buster dreaming himself as all these characters, the latter half (after he is awakened) still portrays two twins adding to the intrigue of multiple characters. What a great watch!
Chris Browning
Super Reviewer
½
This may only be a 22 minute short film, but there's certainly a lot going on. What we get are the goings on at a playhouse, seeing various skits and stage performances, but this film isn't so simple, as it jumps all over the place from dream sequences to reality and back, and is all kinds of disjointed, but the real highlight is the fact that the cast is made up of dozens, with 75% (at least) of them being Keaton in multiple roles. That's pretty cool and impressive, but even more so given the technical limitations of the day, and the fact that Keaton was able to pull this off, especially a sequence where he appears in frame as 9 different characters simultaneously. And people think Eddie Murphy is great at this sort of thing. This seemed mroe overtly funny than The General, but maybe because it's shorter and there's more laughs crammed in per minute. I'm still not a big fan of slapstick, but this makes me appreciate it a bit more. That, and, like I said, this has some crazy innovations going on. Even then, it's not the most memorable thing ever, but still cool.
Chris Weber
Super Reviewer
½
Rather disjointed by Keaton standards, but the sequence with him playing multiple theater characters is remarkable. As his later impression of a monkey (take that, Chris Kattan).
Eric Broome
Super Reviewer
The Playhouse Quotes
There are no approved quotes yet for this movie.