The Roost
(2005)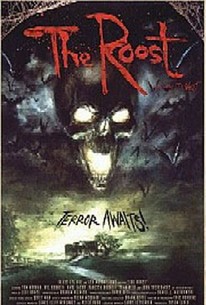 Movie Info
A group of young people are en route to a friend's wedding in the remote countryside of Pennsylvania when they hit something unseen, lose control of their car and become stranded. The foursome reluctantly wanders down the deserted road and into the eerie darkness. They come upon a farmhouse where they hope they can use the phone to call for help -- but no one seems to be at home. It isn't long before they learn that the farm has been taken over by vampire bats that have already claimed the lives of the older couple who lived there. But, once bitten, the victims come back to life zombie-style and those still living have to not only dodge the bats, but the undead as well.
Critic Reviews for The Roost
Audience Reviews for The Roost
Incredibly low-budget but surprisingly entertaining. I sought this little guy out because of my love for Ti West and it is interesting to see some of his earliest work. Sure the acting is terrible and it looks like it was shot on your average camcorder. But despite this, West still manages to create some decent scares and some good-old campy fun. His direction is sharp and really shines through in such a bare-bones production. So if you are in the mood for some cheap-and I mean cheap-thrills, then this little gem may be worth checking out.
½
*** out of **** Consider this before seeing Ti West's first film "The Roost"; these times are not good to the filmmakers without the necessary resources, while they are plenty polite to those who do happen to have them. Year-by-year, filmmakers are given large budgets that amount to nothing; and for the horror genre, that's even more-so a tragedy than you may think. The cinema is constantly invaded by unwanted remakes, derivative "originals", and occasionally a film brought to life by a gifted, imaginative director; that kind who can tell a story decent enough to engage the audience for more than, say, ten minutes. That's more than what most flashy big-budget genre pictures have got. With that out of the way, you know what to expect from this film; when compared to Hollywood horror pictures on a purely technical scale, it seems unimpressive, but when you take a look at the big picture, it's miles better than anything a Hollywood director can crank out in his sleep. "The Roost" has a low budget, and upon its arrival, West hadn't yet made a name for himself; but the film is a nice introduction to what was to come from him in terms of style, but not necessarily in terms of storytelling. Looking to the future, what can I say? West has improved and learned to make more than just a simple - but entertaining - homage to his favorite genre. He's now able to write decent characters; yet another thing that those Hollywood hacks tend to lack. It begins with a fascination with bats, as animals and creatures of the night. I imagine that when writing the film, West had the basic understanding that when we see a bat fluttering about in the night sky, it scares the hell out of us, especially when the winged mammal disappears once again into the darkness. A lot of "The Roost" depends on our fear of the dark, our fear of the unknown and unexplainable, and our fear of animals capable of killing us. A group of decidedly uninteresting kids (presumably of a College age) are stranded in the middle of nowhere when their car breaks down in the cold, cold night. Luckily for them, there is a farmhouse nearby; but it is there that the evil, homicide bats call home. In the farmhouse they rest; until the housekeepers venture into their territory and disturb their slumber. The twist: these bats have a nasty bite that has the capacity to render you a brain-dead zombie. The characters feel unimportant, uninteresting, and terrifically underdeveloped. They are simplistic and always seem to stick to "types". So does the story; although there's a whole other dimension of intrigue to separate it from the mediocrity of the people that populate it. West's inspirations from the story obviously stem from 80's slasher, midnight, and horror movies; the first two following under sub-genres within a single large one - the third thing type of film mentioned. As homage, "The Roost" feels successful and scary. As an original tale, it's good but not great; yet it never falls short of the expectations that one should have when going into low-budget horror-fare. The photography is mostly handheld and digital; so Mr. West's plan to make "The Roost" feel like an old-fashion late night horror flick actually goes through, with impressive results. What he lacks in camera equipment and technical software, he makes up in a solid amount of non-CGI blood and guts. I was actually surprised by how gory the film was; for its kind, I mean. One would not expect a film like this - given its low budget - to deliver the gory goods quite like it does. It's not in your face, it's creepy when it's creepy; scare when it's scary, and while it's certainly imperfect, West has an eye for atmosphere and style. "The Roost" may not be my all-new horror movie obsession, but I respect it completely; and shockingly enough, I found it to be a really enjoyable movie. The best scenes, undeniably, are delivered by Tom Noonan as a late-night horror host; the kind you might see playing on nighttime television sometime around midnight. All scenes with Noonan are shot in glorious black-and-white; the visual presentation is condensed and reduced to a little square, much like that of an old television (fitting, if you ask me). Noonan appears before and after the events of the film; and "The Roost" itself is presented as a sort of movie-within-a-movie. That was the effect that Ti West wanted; and that is the effect that he got. So you see: when you put some actual EFFORT into scaring your audience and creeping them out big time; it all pays off. This was just the beginning for West; and look where he's at now. I'd say he's been growing on me for far too long now; I freaking love this guy. And "The Roost" does nothing to discourage that adoration.
Ryan Marshall
Super Reviewer
Quite possibly the ultimate amateur horror movie. While this has no stars, no budget and no elaborate story, the atmosphere created by Ti West is just amazing. This does what The Blair Witch and Paranormal Activity could never do, truly creep out the audience with just a little bit of music and skewed camera angles. The video deterioration and minimalist shots are really something to be admired. This really succeeded at being a nostalgia horror movie, but at the same time something truly unique.
Conner Rainwater
Super Reviewer
The Roost Quotes
There are no approved quotes yet for this movie.